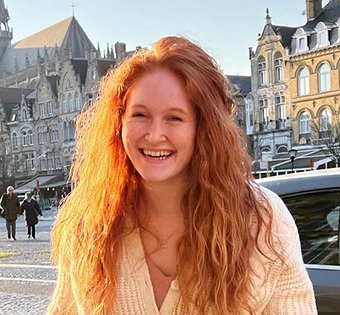 Destination:  France and Belgium
Pharmacy major Leah Carnegie isn't a history buff, but she had wanted to visit France ever since she took French classes in high school. So when she learned about an ONU faculty-led trip to France and Belgium to explore historical sites from World War I and World War II, it seemed like the perfect opportunity to see the City of Lights.
During the 10-day trip, Hannah gained new insights on the past and the present. "The trip was very impactful, especially seeing places where hundreds of people risked their lives" and where damage from previous wars was still evident, she says. "It greatly changed my perspective on things like the Ukraine conflict and made me more aware of what is happening around the world."
Learning about the D-Day invasion in history class, and actually walking the beaches of Normandy, are two entirely different experiences, she says. "Getting to go and see where so many men lost their lives took my breath away and made going on the trip even more special."
Additionally, the ONU group visited Paris and Ypres where they witnessed western Europe's beauty, resiliency and durability in urban and rural settings. Iconic sites such as the Eiffel Tower and Notre-Dame Cathedral, still undergoing renovations from the 2019 fire, were seen. Students and faculty had a stratified experience that also included enjoying classic French and Belgian cuisine, an evening Seine River cruise, a visit to the Holocaust Memorial, hearing the chimes while visiting the American portion of the Colleville-sur-Mer cemetery in Normandy and standing in the trenches at Vimy Ridge, which is now a memorial dedicated to the many Canadian soldiers who died during WWI. At the Tomb of the Unknown Soldier, located at the Arc de Triomphe, several students took part in one of the evening torch rekindling ceremonies by laying flowers at the site. 
Leah was impressed by the size and architecture of the Paris cathedrals. And while she had expected to be dazzled by Paris, her visits outside the city also left an indelible impression. 
"One of the most memorable parts of the trip was going around the towns at night and hanging out with new friends I had made on this trip," she says. "We got to pick our restaurants and just talk about life."