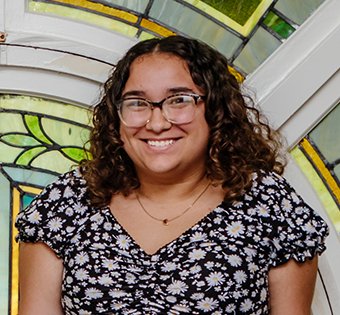 Kenya Mericle aspires to achieve social change through her creative designs. At ONU, she's laying the foundation she'll need to do it. 
"I've always wanted to do something to change the world or people's perspectives through design," she says, "and ONU's organizations and courses are giving me the opportunity to expand on my ideals."
Kenya, a graphic design major with a minor in marketing, is embracing every opportunity for growth and learning that comes her way.
This includes immersing herself in her art and design coursework. The strengths of ONU's art department, she says, are its small class sizes, critique opportunities, variety of projects and in-class studio time. 
"The critiques are super beneficial because you get to see other people's perspectives and the way they went about their designs as well as hear feedback on what you could change in your own work."
Kenya is a member of ONU's student chapter of the American Marketing Association (AMA) and she's president of ONU's student chapter of the American Institute of Graphic Design (AIGA). These organizations have opened the door to leadership and networking opportunities, travel, and professional development.
She is also involved in Greek Life, making close friends and having loads of fun. Her favo-rite activity is a singing and dancing extravaganza called "Greek Sing" that takes place during Greek Week. "The Greek community as a whole is so close that I couldn't see myself not being a part of it."
Additionally, Kenya is a graphic design intern with ONU's Office of Communications and Marketing and an art inventory assistant for the Art & Design department. The summer before her senior year, she plans to study abroad in South Korea.
Looking back, Kenya is extremely grateful she heeded the advice of her two Hicksville High School art teachers–both ONU alumni–who encouraged her to consider Northern.
 "Ohio Northern is such a close knit community and that allows you to develop intimate relationships with your peers and professors. There is not a day where I am walking on campus and I am not greeted by someone I know or don't know. ONU's environment is so positive and friendly."