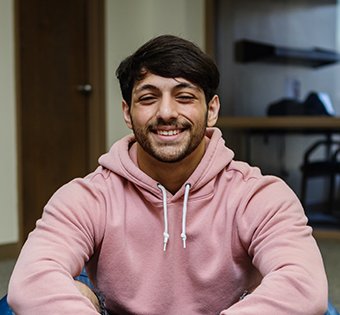 With a double major in psychology and sociology, this student is focused on his future
Karam Abuhelal will not graduate until 2025, but he is surprisingly clear about what he'll be doing when he leaves ONU.
"I want to pursue a career doing psychological research as a professor at a university," he says. "Double majoring in sociology and clinical psychology will be very useful, especially in graduate school."
Growing up in Dayton with a sibling with disabilities was a substantial influence.
"My youngest brother is on the autism spectrum and watching him made me want to research autism and find more rehab techniques to help with the development of executive function in children like him," Karam explains.
Karam chose ONU because of class size and the financial aid he received, notably the ONU General Grant and the Dean's Grant.
Among the things about ONU he appreciates is being involved in a practicum that has helped him learn how to analyze research papers and organize students.
"My stats for behavioral science class helped me a lot with learning how to work SPSS, which is the data collection program researchers often use when conducting their studies," he explains, adding that the research project allowed him to analyze the relationship between pretend or imaginative play and executive function in children who were exposed to lead at an early age.
"We are looking to find new methods to rehabilitate these children and help boost their executive function and slightly reverse the damage that the poisoning did to their cognitive abilities. We are currently in the pilot stage of the study, so we operate in the CDC," Karam notes.
Karam has some helpful information for others interested in a clinical psychology or sociology major at ONU.
"One of my major's biggest strengths is the research opportunities I can engage in," he says. "I am currently a research assistant for Dr. Ann Johnson's research practicum, and it has helped me learn more about how research works and how the Institutional Review Board works, for example."