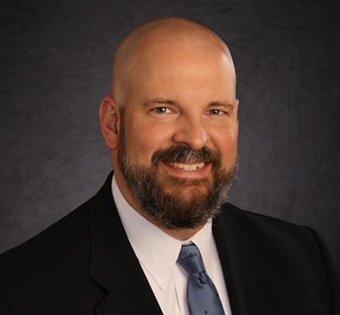 Scholarship enables former U.S. Navy intelligence specialist to pursue his dream of law school
Law student and Joseph R. Cook Law Scholarship recipient John Wysocki credits his father with having nurtured in him a love of learning.
 "I am a first-generation college graduate," he notes. "My father was the son of a coal miner in southeastern Ohio, and education past high school was not valued because sons usually followed their fathers into the mines. He was not a fan of mining and chose a different career path which took him to New Philadelphia, Ohio, where I grew up. Because he felt his career was hampered by his lack of a college degree, he was adamant that I attend college."
John graduated from Ohio State University in 1995 with a degree in communication and from ONU in 2022 with a degree in political science.
For 13 of those in-between years, he served in the U.S. Navy Reserve. While deployed as an intelligence specialist and member of Provincial Reconstruction Team in Farah, Afghanistan, to support Operation Enduring Freedom in 2007-2008, John gained insight that led him to consider becoming an attorney.
"The rule of law was mostly absent in western Afghanistan, and tribal justice was the prevailing method of resolving disputes," he says. "What my service overseas in Afghanistan taught me was the true value of human life, on both sides, and how important the rule of law is and how much we took it for granted back in the U.S. That made me consider a career in law."
John completed his reserve service as the leading chief petty officer and senior enlisted leader of the Office of Naval Intelligence Unit 1992 at Wright Patterson Airforce Base in Dayton and began working within the intelligence community as a civilian analyst.
He also held management positions in a large corporation, a non-profit and his own business before COVID-19 provided a pivot point for him change course.
John is looking forward to the future though he isn't yet sure what type of law he will practice.
"Having been involved in a variety of legal issues as a service member, small business owner, corporate manager and human resources representative, I can leverage all of my experience to make a difference and seek justice for those I will serve," he says. "The impacts I plan to make in my community will take place during and after law school." 
He is currently a peer mentor for veterans in municipal court and plans to continue that outreach during and after law school. "I also plan initially to serve in the criminal law field at the municipal or county level while simultaneously engaging with veteran advocacy."
The future attorney appreciates having received a scholarship.
 "I was honored to have lunch with Joe Cook, scholarship donor, over the summer and learn more about him and his military service and subsequent corporate law career," John says. "The scholarship will help offset my expenses for tuition/fees/books, which will allow me to not work during my first year and to focus on the material and preparing for class and exams. I'm very grateful."
Not surprisingly perhaps, Charlie Rose, III, JD, LLM, dean of ONU's Pettit School of Law, helped make up John's mind about law school.
"He's the reason I chose ONU," John notes. "He is a veteran, and I was drawn to his style and methodology of leading the law school. I met with him early in the process to gauge whether I was wasting my energy, and he assured me that I was not, as long as I intended to contribute my experiences to both the classroom and the profession."