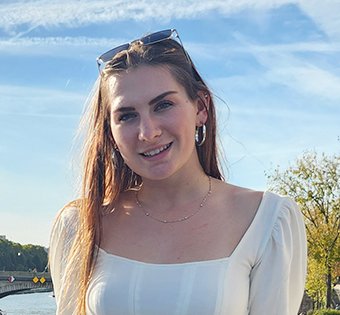 Chemistry student spends semester in French lab
Chemistry major Jasmine Wolfgram spent an entire semester in France engaged in research on the effect of potassium impregnation on the thermal degradation of the surface and core of heat-treated wood.
"I took 18 credit hours at Ohio Northern long distance while also completing 45 hours of research a week," she says. "It was difficult but worthwhile for sure!" Her ONU professors, she added, helped to make the experience positive with their flexibility and understanding.
Jasmine worked as a research assistant in a lab at the Universite de Lorraine IUT-Hubert Curien in the small city of Epinal, France. Despite her extremely busy schedule, she found time to visit and explore several other cities in France, including Paris, Strasbourg and Nice. Additionally, she visited Vienna, Austria, Barcelona, Spain, and Antwerp, Belgium. 
Working in an engineering lab related to materials science, a collaborative branch of science, afforded her the opportunity to interact with fellow chemists from all over the world. Her lab even sent her to Nice, France, to give a presentation in front of 100 mostly non-English speaking scientists.
While living in France, Jasmine uncovered new facets of her personality.
"I learned that I am a very resilient and collaborative individual. There were several challenges that I faced in France, but with tenacity, I was able to overcome them. I learned that I am an independent individual who is strong and capable of achieving my goals."
She encourages her fellow Polar Bears to consider studying abroad. "The experience might be uncomfortable initially, but I encourage you to embrace this feeling. You will grow from what you don't initially understand. Soon enough you will be living your best life."