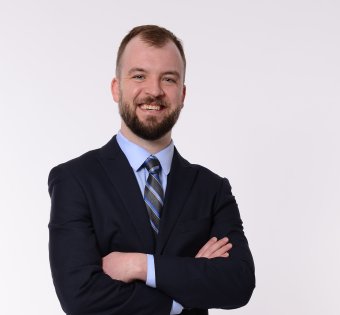 Eric Eisenmann came to ONU for a doctorate in pharmacy degree and ended up obtaining a bachelor's degree in psychology as well. He's glad he did. The opportunity to assist Dr. Phillip Zoladz in his behavioral neuroscience lab put him on the path toward the research-based career in pharmacy he is pursuing today.
Eisenmann is currently a Ph.D. student in pharmaceutical sciences at the Ohio State University where he earned the highly-competitive Pelotonia graduate fellowship and a National Cancer Institute fellowship. At OSU, he's engaged in cutting edge research on anti-cancer drugs. "I enjoy contributing to a body of research meant to improve the lives of patients," he says.
According to Eisenmann, his experiences in Zoladz's lab at ONU prepared him for success in a research-oriented career. "Dr. Zoladz provided numerous opportunities to develop as a scientist," he says, "including independently designing and conducting hypothesis-driven experiments, writing grants, writing review papers and research manuscripts, and leading a team of undergraduates to complete all necessary lab tasks."
Additionally, Eisenmann got involved in many extracurriculars at ONU that developed his leadership skills. He was a founding member of ONU's chapter of Phi Gamma Delta (FIJI) and a member of Kappa Psi, Mortar Board, Interfraternity Council, Northern Without Borders and Psi Chi.
"I learned so many valuable lessons during my time studying psychology (at ONU) and these lessons impact me almost every day," he says.