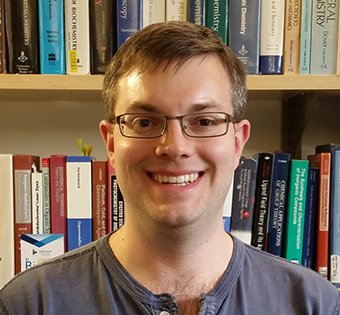 As a postdoctoral fellow with the Miller Institute for Basic Research in Science, Chris Lemon, BS '08, BA '08, is among some of the most brilliant young scientists in the country. He's currently conducting research at the University of California, Berkeley, using his background in synthetic chemistry and optical spectroscopy to develop sensors for early cancer detection. His CV includes a plethora of research projects, publications, honors and postgraduate degrees from MIT and Harvard University.
To think, Lemon's incredible research career may have never reached such heights had it not been for the solid foundation he established at ONU. As a biochemistry, physics and mathematical statistics major, he learned basic chemical synthesis and laboratory best practices, compiled valuable research experience and developed effective presentation skills. He also discovered he had an interest in the chemistry of main-group elements, a subject area he has since worked with at every stage of his career.
As an undergraduate, Lemon received a prestigious national scholarship from the Barry Goldwater Scholarship and Excellence in Education Foundation. To apply, he was required to write an original research proposal. Initially, he was daunted by the task, which was his first opportunity to develop a research project and devise a way to answer a chemical question. But looking back, he now reflects on how this experience reinforced his passion for research and galvanized his decision to pursue a career in scientific research.
FOR ME, THE GOLDWATER SCHOLARSHIP WAS MY FIRST MAJOR SCIENTIFIC ACCOMPLISHMENT, AND IT LAID THE FOUNDATION FOR A TRACK RECORD OF SUCCESS AND ACHIEVEMENT," HE SAYS. "THIS WOULD NOT HAVE BEEN POSSIBLE WITHOUT THE ENCOURAGEMENT AND SUPPORT FROM THE PROFESSORS AT ONU. I HAVE BEEN FORTUNATE TO SUBSEQUENTLY RECEIVE A VARIETY OF SCHOLARSHIPS AND AWARDS AT EACH STAGE OF MY CAREER, INCLUDING A FULBRIGHT SCHOLARSHIP, A NATIONAL SCIENCE FOUNDATION GRADUATE FELLOWSHIP AND A MILLER POSTDOCTORAL FELLOWSHIP."