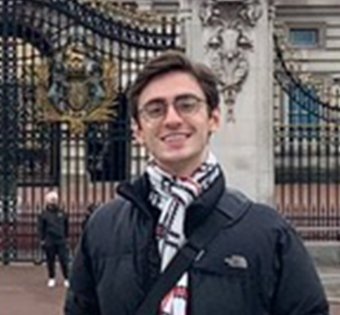 Destination: Manchester, England
Riding coasters at Disneyland Paris, strolling a seaside village in Ireland, visiting Buckingham Palace, taking in a performance of "Wicked" on the West End of London–Caleb Jingo has done it all, and more, while studying abroad.
The musical theatre major recalls being "immediately hooked" his freshman year when he heard about Northern's study abroad program with the University of Salford in Manchester, England. As a young performing artist, he felt  it would be the perfect opportunity to broaden his horizons and build his resume. 
Northern's Study Abroad office helped Caleb make arrangements to spend the spring semester of his junior year in England's second biggest city. He stayed in a flat that was only a 15-minute walk from the University of Salford, a school with a base next to the British Broadcasting Corporation (BBC) and MediaCityUK. 
According to Caleb, "the classes at Salford differed a lot to what I was used to at ONU."  He tackled new subjects, including Shakespeare in Performance, Acting for the Camera, and Comedy Writing and Performance. He also met professors, classmates and friends who impacted his life in a positive way. "Connections are so important in the performing arts industry, and I feel that I made some really strong connections during the short few months in which I lived abroad," he says.
Additionally, Caleb and fellow ONU classmate, Juliana Tate, also a musical theatre major, explored Europe together in their free time. They took in plays and musicals and visited London, Paris and Dublin. "Walking the streets of Paris, in particular, was just breathtaking," says Caleb. "The architecture, the museums, the food were utter delights to take in, and a day at Disneyland Paris was the cherry on top!"