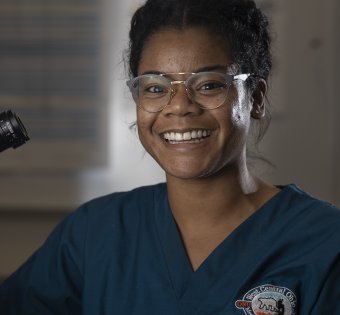 Years after completing her bachelor's degree in chemistry, Audrey Arrington decided she wanted to pursue a career in medical laboratory science (MLS). She considered three different colleges, but ultimately, she chose ONU's MLS program due to the small student-to-faculty ratio. The end result became a fulfilling career in a dynamic, vital field that is more in-demand than ever before.
Originally from California, Audrey traveled all the way to Ohio to complete the post-baccalaureate certificate option at ONU, which allows students with a degree related to MLS to participate in the one-year West Central Ohio Medical Laboratory Science program and meet all the requirements necessary to sit for the MLS Board of Certification exam. Shortly after completing the program, she began her career as a core medical technologist at Lima Memorial Hospital in Lima, Ohio.
Audrey hit the ground running as she launched her career in the middle of a pandemic. She loves so many aspects of her job, but one of her favorites is patient advocacy. When processing samples in the lab, she is always proactive and never hesitates to call up a nurse if she notices something that's not quite right.
"Even though we do not have patient interaction, that does not mean we can't stick up for our patient," she says. "Most people do not know we exist, but it's OK, because it's almost like we're their guardians during their hospital stay or lab visit, making sure they get adequate care based on the results we put out."
Through the MLS program at ONU, Audrey received extensive training in the student lab, followed by intense clinical training in a real hospital setting. The program as a whole prepared her thoroughly and gave her the confidence and knowledge she needed to succeed.
But beyond the program's hands-on training, Audrey also found that the faculty-student relationships she built were just as valuable. Dr. Lisa Walden, director of the MLS program, went to great lengths to support Audrey and her classmates and provided individualized attention to each one of them, as did all the MLS faculty members. "The lessons she taught us and the way she presented them to us was immensely helpful in not only understanding the material but retaining it," says Audrey.
Looking back, Audrey is more than satisfied with her decision to join the MLS program, and she offers this advice to anyone considering choosing the same path:
YOU HAVE NOTHING TO LOSE, AND EVERYTHING TO GAIN. THE KNOWLEDGE, EXPERIENCE AND FRIENDSHIPS YOU MAKE DURING YOUR TIME IN THE PROGRAM WILL BE LIFE LASTING. THE MLS PROFESSORS AT ONU WILL GIVE YOU THE ATTENTION YOU NEED TO SUCCEED, AND THE PROGRAM WILL PREPARE YOU TO EMBARK ON THIS JOURNEY AS A NEW TECH ANYWHERE YOUR HEART DESIRES."
To learn more about ONU's MLS program, click here.