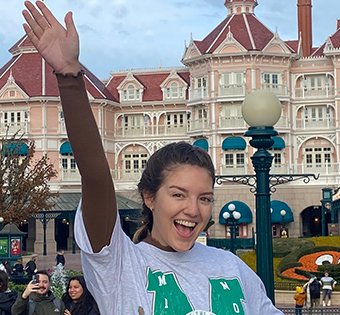 Destination: Alicante, Spain
Artemis Burnett always thought it would be cool to study abroad. At Ohio Northern, the Spanish major got a chance to do it, spending a semester at the University of Alicante in Alicante, Spain, along the Mediterranean Sea.
As her departure date approached, however, her fears started to mount. She worried about how she would do in her classes and if she would be able to make new friends. Then, waiting to board her flight in Chicago, her fears dissipated when she met her fellow students enrolled in the program. Right off the bat, she says, they became fast friends. "It felt amazing to have friends that have your back in a foreign setting," she says. "When I look back, I wonder why I was ever scared. I know now just to embrace the excitement."
In Alicante, a small beach village, Artemis lived in a nice apartment located in the central plaza, close to restaurants and shopping and a short walk to the Mediterranean Sea. She shared the apartment with two other girls and they each had their own bedroom and bath. She took 15 credit hours at the University, studying Advanced Spanish I and II, Advanced Translation, Introduction to Spanish Linguistics, and Twentieth Century and Contemporary Spanish Short Story.
She felt homesick her first week in Alicante, especially on her 22nd birthday, the first birthday spent away from her family. Her new friends surprised her with a party at a local restaurant that served genuine Italian pizza and gelato. It turned out to be a birthday celebration she will never forget, she says. "By the end of my first month, I felt like a native navigating the streets of Alicante, and the rest of my time in Spain flew by in the blink of an eye and I was so sad to leave."
In addition to her studies, Artemis explored Spain and Europe with her roommates and friends. They visited Valencia, Guadalest and Tabarca Island in Spain, as well as Geneva, Switzerland; Paris, France; London, England; and Milan and Bergamo in Italy. 
Interacting with people from all over the world gave Artemis a new perspective on the United States and her own personal journey. After graduation, she plans to obtain a master's degree and become a K-5 teacher. Her study abroad experience, she says, will make her a well-rounded candidate for teaching positions. Looking back, she's glad she overcame her fears and studied in Spain. "It was an awesome experience," she says.