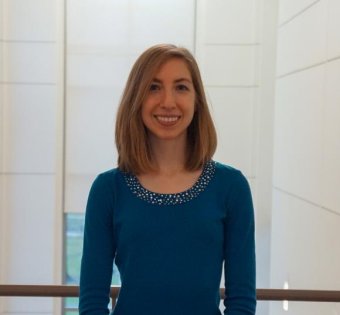 At a young age, Andrea O'Rear became intrigued by how humans think, learn and remember. Today she conducts impactful research on these topics as an assistant professor of psychology at St. Mary's College in Notre Dame, Indiana. 
O'Rear's experiences at ONU laid the foundation for her career at St. Mary's. At Northern, she joined the Newman Club and grew in her Catholic faith. Her professors encouraged her to add a statistics minor, which bolstered her grad school application and armed her with vital skills. And most importantly, her work in Dr. Phillip Zoladz's human stress and memory research lab prepared her for the research on human memory that she engages in today. 
"I felt genuinely welcomed everywhere I went at ONU, making it a very positive and encouraging environment," she says. "ONU also prepared me to be proactive and seek out the experiences I wanted."
After graduating from ONU, O'Rear earned a master's degree and doctorate from the University of Notre Dame. Now she teaches and mentors undergraduate students while engaging in cutting-edge research on event cognition, which is the way that the events we experience influence how we learn and remember information.
She loves the mix of classroom teaching and research. "I really enjoy working with students, both in the classroom and one-on-one. Seeing them discover things, make connections and get excited about psychology is always fun," she says. 
Looking back, O'Rear is grateful she came to ONU and majored in psychology. "I chose psychology because it relates to everything," she says. "No matter what you choose to do in your life, psychology will help you understand how and why people (including yourself) do what they do."