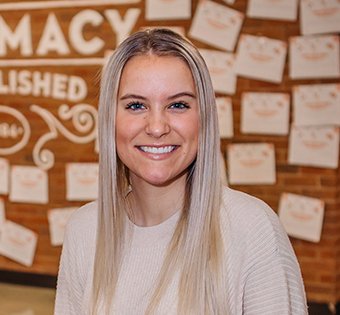 Pharmacy student is committed to helping others
Abbi Kelley's biggest passions in life are achieving personal growth and helping others.
As a pharmacy student at ONU, she's found a pathway for both.
"I've been provided with so many opportunities to follow my passions, including a large variety of clubs and organizations, amazing academics and countless community service opportunities," she says.
From a young age, Abbi knew she wanted a career in healthcare. It wasn't until high school, however, that she developed an interest in pharmacy. Her grandmother was diagnosed with multiple myeloma, and Abbi witnessed firsthand how the right medications improved her grandmother's well-being and day-to-day life as she struggled with her disease.
"I had never realized how big of an impact a regimen and compassionate provider could have on an individual's health and life," she said. "I developed an appreciation for the profession of pharmacy, and I aspire to make a positive impact on many lives throughout my career."
The pharmacy program at ONU is opening Abbi's eyes to the vast array of different career avenues for pharmacists. She is currently considering working in pediatric pharmacy or for an independent community pharmacy.
At ONU, Abbi is involved in numerous organizations, including ONU's chapters of the National Community Pharmacists Association and the Kappa Psi Pharmaceutical Fraternity. She is also an orientation leader, and she joined the Zeta Tau Alpha sorority.
Abbi loves the sisterhood experience of the sorority. "I've found a home away from home, the best support system and some of the best role models," she explains. "I am encouraged to become the best version of myself."
Another great aspect of ONU, adds Abbi, is the relationships she has built with her professors.
"Being able to communicate with my professors about academic and personal experiences is so important because they give me advice and guide me in the right direction," she says. "When I say this program is one-of-a-kind, I mean it; it is so special and it really sets you up for success."