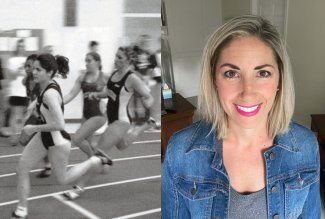 To commemorate the 50th anniversary of the passage of Title IX, Ohio Northern University is sharing the stories of a few iconic female athletes from the past. Discover how ONU Athletics made an impact on these winter and spring sports athletes.
Track and field star developed mental toughness
Jackie Dight, BA '03, still holds several ONU school records in track and field. She is number one in the indoor 300m dash and outdoor 400m hurdle. And she holds the top position in the outdoor 100m hurdle tied with two other ONU athletes.
"What I love most about track is how you participate in individual events, but are still part of a relay team. You compete against the best. It helps with mental toughness, track etiquette, improving technique and setting goals," she says.
Jackie's favorite track and field memory is when ONU hosted the Indoor NCAA Division III Championships in March 2002. She was the only ONU athlete to participate, and as she walked onto the track through the bleachers, she could hear the loud cheers of her teammates. She set a personal record in the 55m and earned All-American honors at that event. In 2015, ONU inducted Jackie into the Athletic Hall of Fame.
Today, Jackie is a physician assistant for an ER group in Columbus, Ohio, working between five different hospital ERs. She is also mom to two children, ages 4 and 6. To relieve stress, she does interval training reminiscent of her track and field days at ONU, but admits: "I am realizing I am not young anymore!"
Jackie offers this advice to current ONU student-athletes: "Practice doesn't make perfect, perfect practice makes perfect. Always strive to your best ability and small achievements will go a long way in the end."
Diver discovered lifelong friends
Deantha (Budde) Schuman, BSPh '92, often reflects on how her experiences on ONU's swimming and diving team shaped her into the community pharmacist and person she is today.
"Being on a team at ONU taught me to be tougher, both physically and mentally," she says. "It provided me an opportunity to broaden my horizons outside of just academics. It gave me friends I still have today."
Deantha is proof that you can fall flat on your back (literally) and come back strong. Her very first meet at ONU, her first time on the high dive, she actually fell flat on her back, to her great embarrassment! But she went on to have an outstanding career as a diver. 
She qualified for the NCAA meet three times, received the MVP award twice, and set a school record for all four of the diving events. One of those records stands today at ONU. In 2005, ONU inducted Deantha into the Athletic Hall of Fame.
During this anniversary year of Title IX, Deantha recognizes that women's sports has come a long way and that she had opportunities that women before her never had. "We now need to support and protect this system so future generations of women can benefit as we have," she says.
Golfer laid a foundation for her business career
Playing golf at Ohio Northern University "changed my life," says Meagan (Brennan) Pond, BSBA '08. The sport taught her life lessons, mental toughness, and opened the door to opportunities in her business career, she explains.
"There is a saying that business is conducted on the golf course, and I still find that to be true, so being good at the game has been great for professional networking and building my corporate brand."
Meagan, who resides in Cincinnati with her husband and two small boys, is currently the business development director for Gartner in their legal, risk and assurance department.
At ONU, she was All-OAC, First Team all four years. Her senior year she made it to the NCAA National Championships as an individual; won the Helen Ludwig Award for Best Female Athlete; and was voted an All American, Honorable Mention. She is still a top five record holder in career records and single season records and she holds the ONU record for most birdies.
As a golfer, her biggest struggle was her mental game. She credits Coach Stacey Hairston for helping her learn to let go of a bad shot or a bad nine holes and move on. "Golf is the one sport where sometimes the harder you try, the worse you play. It can be frustrating, but it's also a fun challenge."
And because golf is a self-reporting game, it instilled in her the importance of honesty and integrity. She developed this motto she still lives by: "It is not how you act when everyone is looking, but how you act when you think no one is looking that matters the most."
Softball standout now in the coach's seat
From standout softball player to head coach, Jackie (Mangola) Price, BS '12, has come full circle at Ohio Northern University. 
"Playing collegiate softball at ONU made me into the person I am today," she says. "I learned so many valuable life lessons through the sport, and I want today's student-athletes to have that same experience."
Softball is competitive and constantly evolving, adds Jackie. "I'm in my 10th year of coaching and I'm still learning something new every single day. I just love that. The game keeps growing and so does my love for it!"
Jackie played on the ONU softball team all four years of college. Her team made it to the NCAA regionals every year and to the world series twice. She was named OAC Player of the Year and All American two times, and she was the Clyde Lamb Award winner. She still holds several softball records at ONU, including being the program's all-time leader in home runs with 45.
In her seventh season as ONU's head softball coach, Jackie has led ONU to a 135-75-1 overall record and three OAC Tournament titles. She is the only coach in ONU history to be named both the OAC Player of the Year and OAC Coach of the Year. 
Every day, Jackie relishes the chance to pass on the skills and values she learned through the sport to a new generation of players.
"I am trying to show my players that you must work for everything you get and that you should take ownership of that work," she says. "I'm also trying to instill in them to always fight for what you believe in and stay true to who you are as a person while knowing your self worth."
Basketball player discovered a family
Playing basketball at Ohio Northern had a major impact on Morgan (Dumbaugh) Bass, BS '13.
"I created bonds with friends who became family. To this day, we still all get together at least a couple of times a year to catch up on what's been going on in each of our lives and, of course, to reminisce."
During Morgan's 2012-13 season, the Lady Polar Bears were OAC regular season champions and tournament champions. They went undefeated in the conference, 18-0, and had an overall record of 27-2. They also made it to round two of the NCAA Division III Tournament.
Morgan loves the competitiveness and fast pace of basketball. "If a team is not ready at any given moment of the game, the momentum can change from one team to the next."
To be successful in basketball, like in life, you have put in the time and be willing to work hard, she adds.
"Some of the key life lessons that I learned were time management, teamwork, sacrifice, preparedness and how to deal with adversity," she adds.
After graduating from ONU with a degree in health and physical education, Morgan began her teaching career at Lima City Schools. While there, she earned her master's degree in health education. Today, she is the health and physical education teacher at Ada High School. She coached girls' high school basketball for eight years, only recently taking a break from coaching to spend more time with her husband and two little girls. 
Her advice to female student-athletes: "Don't be afraid to put yourself out there and take risks. If something means something to you, be willing to put the work in and go for it!"
Tennis standout still remembers her 100th win
Meghan (Letizia) Sorensen, BSCPE '16, can't imagine the pre-Title IX world with its limited opportunities for female athletes.
The ONU alumna and tennis standout, says, "It seems weird that 50 years ago, women didn't have equal opportunities to play sports. Being able to play tennis made my college experience that much better. My mindset has always been that anyone can do anything they set their minds to, especially in sports!"
At ONU, Meghan set five different school records in her four years of playing tennis. She'll never forget getting her 100th win in a challenging match against Kalamazoo. In singles, she split sets and was down 1-5 in the third set before making an amazing comeback to win 7-6.
"Everyone was cheering me on and it was such a tough match both mentally and physically, but I pushed through it and came up on top. And to make things better, I didn't know it was for my 100th win until after the match!"
Meghan loves that tennis is a sport that anyone can play, and that it can be a lifelong endeavor. In fact, she still plays and co-captains a 5.0 team that won state last year. And, her passion for the sport inspired her to start a side business, Lucky Racket, selling tennis clothing (including punny t-shirts) and accessories.
The lessons she learned from playing tennis at ONU–patience, perseverance and integrity–she uses today as a software developer and task order lead at CAE USA. In this role, she is in charge of a team of developers that run an application that helps plan missions for the U.S. Air Force.
She encourages today's ONU student-athletes to remember: "While it's important to work hard and stay focused, don't forget to enjoy the process. Sports are meant to be fun, so take time to appreciate the experience and enjoy the journey."