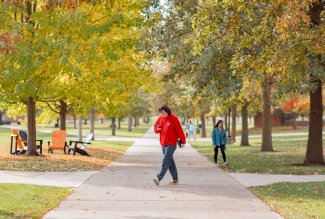 From golf to government, the topics being covered in Ohio Northern University's new courses being offered this fall semester vary widely. Which would you choose? Below is a comprehensive list.
 
The History of American Conservatism (special topics). This history course is focusing on the history of conservatism's influence on America, from the Mayflower to today. Along with historical narrative, students are exploring what conservatism is, different streams of conservative thought, and leftist critiques of conservatism.
 
Philosophy and Science Fiction (special topics). This philosophy offering is having students examine several philosophical issues, such as the nature of reality, person, mind, space and time, and ethical issues related to technology, through science fiction thought experiments.
 
Constitutional Law and Government. This American politics elective is being taught by ONU's new constitution and law Professor Robert Cupp, former Ohio Republican House speaker. Students are learning about the social and political forces that shaped constitutional political theory, including the interaction of law and politics through the Reconstruction era and the relationship of the Supreme Court with respect to Congress, the executive branch, states, and emergency powers.
 
Special Topics in Interdisciplinary Science. Presentations, discussions, and activities are designed to enhance student preparedness for study in science, technology, and mathematics fields at ONU.
 
Fundamentals of Technical Theatre (special topics). This course is offering a basic foundation in technical theatre and terminology. Topics include production team and roles; the basics of tool use and scene shop safety; the basics of lighting, sound and costumes; and what it takes to be a successful assistant stage manager.
 
Business and Golf (special topics). This instructional course for all students is focusing on learning the game of golf. Proper golf etiquette and how to conduct business around golf will also be discussed.
 
International Marketing (special topics). Designed to introduce global marketing practices, this business course aims to raise awareness about the importance of marketing strategies from a global perspective.
 
London & Paris: Urban Planning and Development. Engineering students will benefit from this short-term study abroad experience while also developing technical expertise in urban planning and development.
 
Introduction to Computer-Aided Drug Design. In this pharmacy course, basic concepts and the computational techniques commonly employed in rational drug design and development are being introduced. Theories behind the calculations performed (e.g. geometry optimization, binding, pharmacophores, etc.) will be presented in a simple and easy-to-understand manner suitable for undergraduate students. How those theories are employed in practice will be demonstrated through a series of relevant hand-on exercises. Different drug design approaches will be explained and the strengths and limitations of each approach will be highlighted. Course participants will be challenged with drug design problems that will require using a variety of the most widely used drug design software to solve. A series of hands-on computer exercises will be provided to serve as tutorials to the software used and to illustrate how the introduced theories and approaches are employed in solving drug design problems.
 
Human Trafficking and Exploitation (special topics). Designed for criminal justice majors, this course explores the reasons that human trafficking occurs, typically targeted individuals and groups, the methods for mitigating it within the United States, and how some proposed solutions aren't as simple as they seem. Topics such as exploitation of vulnerable populations and socioeconomic status are addressed. Students are required to regularly reflect on what they're learning and to develop a plan for educating a specific contingent of the population about human trafficking.