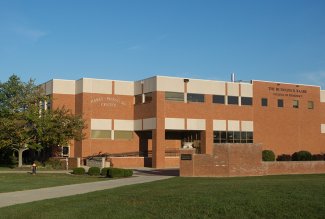 John G. Weber, BSPh '65 and Suzanne (Scott) Weber, BSEd '65 have a great affinity for their alma mater and the people at ONU who deliver a world class education.
Both Ohio natives—John was born in Woodsfield and Suzanne in Columbus—they graduated and married in 1965. While at Ohio Northern, John was active in Sigma Pi, Phi Delta Chi, American Pharmaceutical Association, and Student Senate. Suzanne was active in Alpha Xi Delta, Choir, Student Education Association, Association of Women Students, and Wesley Fellowship.
Shortly after they married, John was called into military service. He served as a pharmacist in the United States Navy for three and a half years, one year of which was at the NSA hospital in Da Nang, South Vietnam. Upon release from military service, John established Weber's Pharmacy with his brother Stephen Weber, BSPh '69. They served as pharmacists to the Woodsfield area for more than 45 years. When the Pharmacy was sold in 2015, John's pharmacy career totaled more than 50 years.
Suzanne taught fourth-grade students both in Columbus, Ohio and Dale City, Virginia schools. Afterwards, she tutored students from the local school district while rearing their three children. The couple's oldest child, Kristine (Weber) Schumacher, BSPh '91, also graduated from Ohio Northern. In 1995, Suzanne established Creative Expressions Christian Book and Gift Shop in Woodsfield. 
John and Suzanne are proud to say they attended Ohio Northern University; and that they lived most of their lives in Monroe County, Ohio. Their love for the people and the Lord led them to become dedicated servants of Christ in the Woodsfield First United Methodist Church, and in their community.
In establishing The John G. and Suzanne (Scott) Weber Endowed Pharmacy and Education Scholarship Fund, the Webers honored Ohio Northern University's 150th anniversary, which was celebrated in 2021-2022, and the dedicated faculty and staff that have and continue to make ONU a special (Christian) education institution.