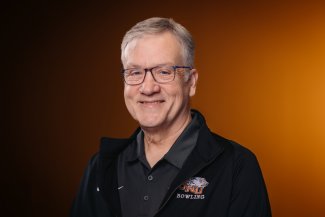 New opportunities are forming in the Ohio Northern University Athletic Department as bowling becomes the newest sport for the Polar Bears.
Ohio Northern will field both men's and women's bowling teams for their inaugural seasons October through March.
The bowling program will be led by well-known bowling coach Jeff Robinson, who has about 40 years of coaching experience. Joining the Athletic Department in Feb. 2023, he already feels at home in orange and black.
"I'm just really excited to be a part of the Ohio Northern community, and certainly the athletic staff here," he said. "It's been a very positive experience and everybody I've encountered here has been very positive, so I'm just very excited to be a part of it."
Robinson said the addition of the team at ONU reflects the popularity of the sport at the high school level and the rapidly growing number of colleges and universities adding the sport as well. While many schools are adding the sport on the club level, he is pleased to see ONU adding it as a varsity sport.
He said joining a university with the academic standards such as those at ONU is something that attracted him to coach the team.
"It's nice to be able to recruit that type of player where we're looking for 'student' first and 'athlete' second so to speak," Robinson said, "versus just looking for athletes to try to build a team around. I'm really excited to coach students at that level."
ONU Director of Athletics Tom Simmons said is the perfect person to help the program get underway.
"We are excited to bring men's and women's bowling to Ohio Northern University," Simmons said. "Coach Robinson is well respected in the Ohio bowling community, and his experiences establish credibility with the many high school programs in the region. Coupled with our excellent academic programs, we have a great opportunity to offer our future bowling student-athletes."
Robinson made his impact as a collegiate coach by founding the bowling program at Notre Dame College in South Euclid, Ohio, then subsequently coaching at Marian University in Indianapolis, Indiana and two separate stints with The Ohio State University.
At Ohio State, he coached the women's club team to the National Club Team Championship, and also was named 2023 Collegiate Club Team Bowling Women's Coach of Year for all his team's successes.
Along with his collegiate coaching successes, Robinson coached the Westerville Central High School team from 2007 to 2018.  He coached the boys' varsity team to several Ohio High School State Tournament appearances and a state title in 2017.
Pending the numbers of signed recruits and existing ONU students who made the team through a tryout process, both varsity and junior varsity teams will compete at the collegiate level. The teams will compete in the Ohio Bowling Conference.
While up to eight bowlers make up a team at tournaments, as many as 20 bowlers each could make up the men's and women's teams, allowing for junior varsity teams and reserves who could practice with the teams.
With his connections at the high school bowling level, Robinson said he is already gaining interest from high schools around Ohio, especially in northwest Ohio.
Those interested in the program can find more information on the ONU Athletics webpage or by contacting Coach Robinson at j-robinson.9@onu.edu.