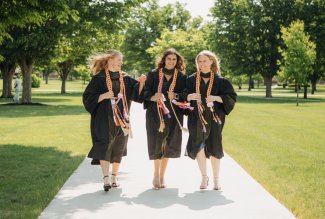 Ohio Northern University has jumped from No. 4 to No. 2 in U.S. News & World Report's Best Regional Colleges Midwest list for 2024, making it No. 1 in Ohio. The University also ranks highly in other key categories, including 3rd (first in Ohio) in regional Best Value Schools, No. 12 in electrical/electronic/communications, and No. 23 nationally and No. 1 in Ohio for undergraduate engineering programs (no doctorate). The rankings, long considered a valuable tool for families undergoing the college decision-making process, reinforces ONU's standing as a top institution for affordable, distinctive learning.
A total of 370 schools were ranked in the Best Regional Colleges Midwest category. All U.S. News & World Report rankings assess academic quality.
"These latest accolades are a reflection of who we are as a community," said President Melissa J. Baumann, Ph.D. "We attract students who are ready to learn and ready to work hard, and our faculty and staff support them each step of the way. That's what makes us special and ensures that an ONU education is an outstanding value."
U.S. News & World Report uses a 100-point system that takes into account benchmarks such as graduate indebtedness, student-faculty ratio, standardized tests, and retention rates.