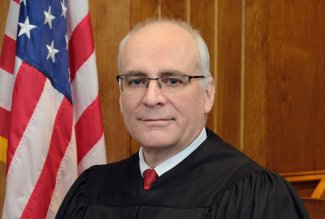 Ohio's Third District Court of Appeals will hear oral arguments for two cases at Ohio Northern University on Tuesday, March 7 in Claude W. Pettit College of Law's Tilton Hall, Room 129. At the conclusion of arguments, which will pertain to one criminal case and one civil case, the appellate judges will take questions from the audience.
 
The event will be free and open to the public. Business attire is required and observers must be seated by 9:40 a.m. Court will be in session at 10 a.m.
 
ONU's College of Law annually hosts such proceedings. The court's special session at ONU Law is part of an educational outreach program to give students, educators and the public an opportunity to enhance their understanding of the appellate process.
 
Based in Lima, Ohio, the Third District Court of Appeals hears cases from 17 counties and travels among them for special court sessions.
 
The judges who will attend the ONU proceedings are Presiding Judge Mark C. Miller, Judge John R. Willamowski, and Judge Juergen A. Waldick.
ONU Law Dean Charles Rose III says the event is always much anticipated. "The connection between the classroom and the courtroom at ONU Law is never clearer than when the Third District Court of Appeals hears oral arguments in the Celebrezze Courtroom. Generations of ONU lawyers have listened, and learned, from the best. We are happy to welcome them back again this year. Our students cannot wait to listen and learn," says Rose.
Arguments will be heard for the following cases:
State of Ohio vs. Ziair Green. In this criminal case, Green is asserting several assignments of error arising from his convictions for felonious assault and felony murder with firearm specifications. Green fatally shot his ex-stepfather after a domestic violence incident involving Green's mother.
Durnell's RV Sales Inc. vs. Lisa Beckler, et al. This civil case relates to the sale of an RV. The defendants are appealing the trial court's grant of summary judgment, which dismissed all of the defendants' counterclaims against plaintiff.