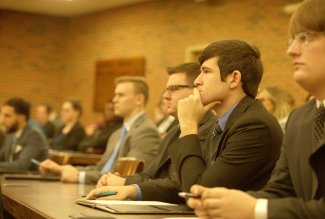 Ohio's Third District Court of Appeals will hear oral arguments for two cases at Ohio Northern University on Tuesday, March 15 in Claude W. Pettit College of Law's Tilton Hall, Room 129. At the conclusion of arguments, which will pertain to one criminal case and one civil case, the appellate judges will take questions from the audience.
The event will be free and open to the public. Business attire is required and observers must be seated by 9:40 a.m. Court will be in session at 10 a.m.
ONU's College of Law annually hosts such proceedings. The court's special session at ONU Law is part of an educational outreach program to give students, educators and the public an opportunity to enhance their understanding of the appellate process.
Based in Lima, Ohio, the Third District Court of Appeals hears cases from 17 counties and travels among them for special court sessions.
Arguments will be heard for the following cases:
Lind Media Company v. Marion Township Board of Zoning Appeals, et. al. This case was filed after a zoning permit to construct a billboard was denied. The permit was denied on the basis of it being considered a "traffic hazard" and it did not comply with illumination standards. Lind appealed to the Board of Zoning Appeals and was again denied, subsequently appealing that decision to the Marion County Common Pleas Court.
State of Ohio v. Seth Jordan. This case involves a motion to suppress and a fourth amendment claim for unreasonable search and seizure. Using a helicopter, state police observed marijuana growing on a property. Appellee Jordan argues that the helicopter was flying too low, constituting an unconstitutional search of his premises and that the evidence obtained from that flight should be suppressed.
"We always look forward to holding court proceedings at Ohio Northern every year," says Charles Rose III, College of Law dean. "The connection between the classroom and the courtroom at ONU Law is never clearer than when the Third District Court of Appeals hears oral arguments in the Celebrezze Courtroom. Generations of ONU lawyers have listened and learned from the best. We are happy to welcome them back again this year. Our students cannot wait to listen and learn," says Rose.
ONU "is a special place for the judges of our court because each one of us received our law degree there," says Judge William R. Zimmerman, presiding judge, Third District Court of Appeals. The other judges include John R. Willamowski, Stephen R. Shaw and Mark C. Miller.