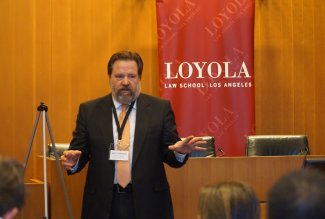 S. Rafe Foreman, who was voted a "super lawyer" by his peers and serves as a Stetson University School of Law professor, will be the Goldman Lecture speaker for Ohio Northern University's College of Law's 2022 Spring Lecture Series.
Foreman's free, public talk, titled "Qualified Immunity: A Legal Fiction That Has Outlived Utility," will be held on Wednesday, April 6 at 11 a.m. in Tilton Hall, Room 129. Qualified immunity can be used to shield government officials from certain civil lawsuits. Its legislation intended to establish that no one is above the law. But Foreman argues, "It's a fiction because it has no legislative, no constitutional, and no common law basis, and thus was literally made up by the judiciary."
Foreman will peer into the consciousness of those who continue to perpetuate a judicially created concept that he says allows certain classes of citizens to rise above the law. "Don't violate the law, then one won't have to rely on this judicially created fiction known as qualified immunity," he emphasizes.
A trial lawyer, consultant and professor, Foreman has obtained record-setting jury verdicts throughout the country. He tries cases involving criminal defense, plaintiffs' personal injury, civil rights, employment, discrimination, wrongful death, and excessive force. He has several cases pending before the U.S. Supreme Court. He is licensed to practice law in Texas, Oklahoma, New Mexico and Missouri and has jury verdicts in each of these states. Foreman has litigated cases in other states too, ranging from Washington to Florida. He is the 2021 recipient of the Lifetime Achievement Award presented annually to the prestigious Educating Advocacy Teachers Conference held at Stetson University School of Law.