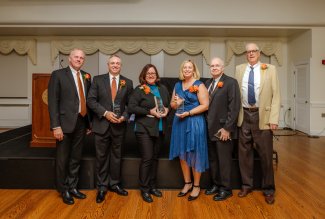 Seven Northern University graduates received distinguished alumni awards and two received young alumni awards during Homecoming Weekend in October 2022.
 
Distinguished Alumni Award recipients:
 
David Hileman, BSPh '86, BSBA '87, a registered pharmacist and patient services executive, is executive vice president of PharmaCord. As a founding executive of the company, his focus is on working with biopharma manufacturers to develop and provide support services for specialty products and complex disease states. Throughout his career in healthcare services, he has been featured in numerous trade publications and spoken at a variety of conferences about commercialization services.
 
Kenneth Hall, BSEd '64, received the Alumni Service Award. He retired from Roundy's in 2010 as vice president of marketing and merchandising after 31 years with the company. Hall has served the Alumni Advisory Board in various capacities since 2009.
 
James Halderman, BSEd '68, received the Getty College of Arts and Sciences Distinguished Alumni Award. He retired as a professor from Sinclair Community College in Dayton, Ohio in 2010.  Since retiring, he has written automotive textbooks mainly used at community colleges. As the leading textbook author for the automotive education industry, Halderman is always bringing attention to his education at ONU while speaking throughout the country. Most recently, Halderman's support led to the creation of an innovative lab and think space on campus called the Halderman Sustainability Lab. He has also funded the installation of a fleet of charging stations for electric vehicles at ONU.
 
Paul Carbetta, BSBA '90, received the Dicke College of Business Administration Distinguished Alumni Award. He is CEO of Comprehensive Wealth Partners, a private wealth advisory practice of Ameriprise Financial Services, LLC. He has 32 years of experience as an advisor and has helped thousands of clients while building an impressive practice in Powell, Ohio. Carbetta has been named as one of Barron's Top 1,200 Financial Advisors each year since 2016 and starting in 2018, he was named a Forbes Best-in-State Wealth Advisor.
Lori (Burgett) Gillett, BSCE '96, received the T.J. Smull College of Engineering Distinguished Alumni Award. She is CEO of Corna Kokosing. Gillett has worked her way from the bottom to the top of a third-generation, family-owned business. She leads as the first female CEO in the company's history and uses her position to support diversity in the construction industry. A point of pride is that Kokosing employs nearly 40% females in the company's professional roles.
Patrick W. Allen, JD '65, received the Pettit College of Law Distinguished Alumni Award. He is an attorney with Casper and Casper in Middletown, Ohio and has practiced law for more than 55 years. His practice areas are personal injury law, products liability litigation and worker's compensation. Allen is a past president of the Miami Valley Trial Lawyers Association and past president of the Dayton Bar Association. In 1965, he followed a long family tradition of helping people through the legal system. More recently, Allen has undertaken an effort to record WWII stories, which have been preserved by the Library of Congress.
 
Dr. Karen (Suchanek) Hudmon, BSPh '86, received the Raabe College of Pharmacy Distinguished Alumni Award. She is an award-winning researcher and leader in national public health improvement efforts, with a focus on her home state of Indiana. She specializes in the expansion of evidence-based training programs for health care providers, and she is most well known for her work in tobacco cessation. Her efforts helped establish pharmacist prescriptive authority in most states for tobacco cessation products.
William L. Robinson Young Alumni Award recipients:
 
Stephanie (Bell) Saghy, BSBA '08, is currently an independent Financial Advisor for Merrill Lynch Wealth Management. She started her career at J.P. Morgan Private Bank directly out of Ohio Northern University. She has since risen to the level of vice president. Within the company, she has been recognized for her leadership and has been appointed to an advisory board that works on special projects with the CEO. Saghy serves on the Dicke College of Business Administration's advisory board.
 
R. Logan Yoho, PharmD '10, is the director of pharmacy at Hopewell Health Centers in Logan, Ohio. He serves on the Ohio Pharmacists Association's Legal and Regulatory Committee and Practice Advancement and Innovation Committee and has been recognized as an UNDER 40 Award Recipient by the OPA. He previously served on the State of Ohio Board of Pharmacy Ad Hoc Rules Review Committee. In addition, Yoho is an Apexus Certified 340B Expert, a federal program that allows clinics to provide medications at reduced cost to patients most in need. Yoho helped shape Ohio House Bill 482 and Ohio Senate Bill 263 and continues to advocate for patient access to medications.