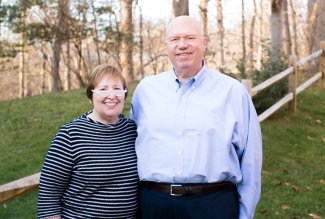 A significant financial gift to Ohio Northern University's Institute for Civics and Public Policy (ICAPP), a student-led civic engagement endeavor, is expected to elevate the nonpartisan think tank's already impressive public impact.
 
The Forward Together campaign contribution from Scott Miller, BA '77, and Rhonda Miller, BSPh '80, PharmD, will provide "a means to not just dream," but to make those dreams a reality, said Robert Alexander, Ph.D., ICAPP's founding director and a political science professor.
 
"The Millers' gift will be transformative for ICAPP. They were there, providing initial support, when the page was blank. Now, we have pages upon pages of things that we're doing with ICAPP that people are taking notice of across the state, the region, and the world," said Alexander.
 
The Forward Together campaign seeks to build a bright future for ONU by raising $100 million for student scholarships, teaching and learning excellence, facilities, and the Northern Fund.
 
"We believe ICAPP has been emblematic of how an Ohio Northern education adds value for students and the surrounding community," the Millers said. "It's a unique forum for high-quality public policy research and commentary, where students and faculty from across the University work together and reinforce the habits of civic engagement. We hope our support will broaden and deepen student involvement. ICAPP's founding director, Dr. Rob Alexander, personally combines academic excellence with a strong commitment to student success," they added. "Our gift is intended to strengthen ICAPP's contributions to student engagement and skill development."
 
The ICAPP's most recent attention-grabbing work was the latest Northern Poll, which collected Ohio voter sentiments on hotly contested state and national issues and candidates. Poll results were reported in publications as far-reaching as The Guardian and New York Times International, quoted by presidential frontrunners, and ultimately considered an accurate opinion gauge prior to the critical August 2023 Ohio election.
 
Other ICAPP efforts include its ongoing Critical Questions series, which parses and clarifies complicated public issues in ways that the general public can better understand; the un-CAPP it! podcast that interviews experts and leaders, and delves more deeply into subjects ranging from gerrymandering to AI; and policy briefs. The Institute also hosts local election forums and community seminars; last year it offered its first Girls Increasing Representation Leadership Summit (G.I.R.L.S.) for female Hardin County middle school students.
 
ICAPP is a hub for voter registration, education, and engagement efforts. Student Fellows regularly host registration drives and recently launched ONU Votes, a webpage to help ONU students learn more about voting and elections. The publicly accessible "ONU Votes" repository includes voter registration information; resources on local, state, and national candidates and issues; election timelines; and more. ONU's Campus Vote Project Fellows are visiting classrooms and student organizations to register people to vote, answer questions about registration, and talk about the importance of voting.
 
Ohio Northern was designated this year as a Voter Friendly Campus by the nonpartisan Campus Vote Project (CVP) and NASPA – Student Affairs Administrators in Higher Education.
 
The Miller's most recent gift will have a large impact on current and future ICAPP Fellows.
 
"My fellowship at ICAPP has led me to explore policy areas outside of my traditional interests," said Carmen Mancuso, an ICAPP Fellow who is double majoring in political science and Spanish. "As only a sophomore, there is still a lot of uncertainty about what my path will be post-graduation. By co-hosting the un-CAPP it! podcast, my eyes have opened to the vast opportunities available to me. The ability to have weekly 40-minute, one-on-one discussions with professionals and, as a result, create a network of experts is rare. Through the generous donations of the Millers and other ICAPP supporters, I am able to explore my future, hone vital career skills, and enjoy every second of it."
 
"Mr. and Mrs. Miller have been integral to the success of ICAPP," said ICAPP Fellow Kennedy Aikey. "I have always appreciated their support with every new project and event. I would like to thank them for taking time to attend our ICAPP meetings, being a guest on the podcast, and always participating in our events. It has been very helpful to have them as mentors."
"The ICAPP is a natural extension of Ohio Northern's founder, Henry Solomon Lehr," the Institute's webpage explains. "He envisioned a university where its graduates would take their knowledge, skills, and intellect into the world to serve the larger society. This has been a staple of an ONU education. The ICAPP supports Lehr's vision through intentional programming and collaboration between faculty and students." The heart of the Institute's mission is to "promote good citizenship."
 
The Millers are longtime ONU supporters. Along with helping to establish the ICAPP Public Engagement Fund, they created the Scott and Rhonda Miller Family Charitable Fund, have been Northern Fund contributors, and donated to the ONU Arts and Sciences Dean's Opportunity Fund. They are Life Members of the H.S. Lehr Society, ONU's top giving society, and Scott has served on the Getty College of Arts and Sciences Advisory Board since 2010.
 
The couple met at ONU while participating in University Singers. Scott, from Millersburg, Ohio, joined the Procter & Gamble Company, where he worked for 34 years, following assignments in manufacturing and marketing. From 1995 until his 2012 retirement, he served as P&G's director for international government relations. In 2010, he received the Washington International Trade Association's Lighthouse award for distinguished contributions to policy and practice. Since 2012, Scott has been a senior advisor at the Center for Strategic and International Studies, a public policy research organization based in Washington, D.C.
 
Rhonda is from Massillon, Ohio. She practiced pharmacy at University of Cincinnati Medical Center with a joint appointment with UC's College of Pharmacy and the College of Medicine's Department of Internal Medicine, where she earned a clinical PharmD degree. She then worked with Dr. Dorothy L. Smith at Consumer Health Information Corporation before retiring.