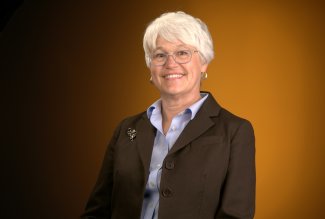 Chris Burns-DiBiasio, Ohio Northern University's director of community relations, a voluntary role, recently received the Hardin County Chamber & Business Alliance's 2021 Citizen of the Year award for her exceptional contributions to the region, and the inaugural Chris Burns-DiBiasio Making a Difference Award from the Ada Area Chamber of Commerce; the latter award was presented to her as a surprise during the chamber's annual luncheon.
Burns-DiBiasio has consistently worked to make connections, build community and promote service since her arrival in Ada in 2011 with husband, ONU President Dan DiBiasio. In particular, her efforts have been integral to the establishment and success of the Ada Community Engagement (ACE) Day, Get Connected ONU, Affinity Gardens, Patriotic Pops and the Made in Ada Wilson Football Festival.
ACE Day, founded by Burns-DiBiasio in 2012, is an annual fall campus move-in day service event in which hundreds of students, faculty and staff complete projects for various community organizations.
Patriotic Pops has been an Independence Day tradition thanks to Burns-DiBiasio and Kirsten Osbun-Manly, resident artist and instructor of music at ONU. The outdoor concert on campus, which debuted in 2015, features the Lima Symphony Orchestra (LSO).
Affinity Gardens, established a decade ago at ONU, is a modern-day "victory garden" that Burns-DiBiasio started with Dr. Terry Kaiser, professor emeritus of biological sciences, and coordinates with Deb Curlis, director of Ada's Beatitudes community center. The garden supplies produce for local families facing food insecurity.
The Made in Ada Wilson Football Festival, inspired by Ada Mayor Dave Retterer's idea to have an annual football drop on New Year's Eve, was expanded into a community celebration that Burns-DiBiasio helped organize. It celebrates what makes Ada unique in the state of Ohio, and draws many to the downtown for music, food trucks and activities at the depot park.
Additionally, Burns-DiBiasio served on or was involved with several community-based organizations, such as the Ada Rotary Club, Ada Chamber of Commerce, the Activate Allen County Leadership Team and the Lima Symphony Orchestra Board of Directors. She was also a community fellow with the Hardin Community School and served on the Hardin County Chamber & Business Alliance Board of Directors.
After receiving the Ada Area Chamber of Commerce's Making a Difference Award named after her, Burns-DiBiasio said she hoped that she "made an impact, not just at the University, but…. on this community… This is a place to call home."