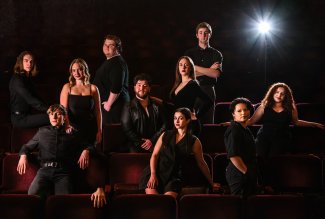 ADA, Ohio - Ohio Northern University's School of Visual and Performing Arts will present its grand finale to the 2022-23 theatre season with The Addams Family: A New Musical Comedy. Made possible with underwriting from Quest Federal Credit Union and the Committee on Cultural and Special Events, performances are slated for April 27-29 at 7:30 p.m. and April 29 and 30 at 2 p.m. at the Freed Center for the Performing Arts. A talkback with the director and cast will be held immediately following the April 30 performance when audience members can experience a behind-the-scenes conversation with the creators.
 
Tickets can be purchased at the Freed Center Box Office at 419-772-1900 or online at FreedCenter.com. Box Office hours are from noon to 5 p.m., Monday through Friday, and 90 minutes prior to a performance.
 
Returning to ONU for another directorial appointment since his staging of last year's Beauty and the Beast, guest director and ONU alumnus Matt Simpkins, BFA '03, will join creative forces with music director Michael Jordan, BA '08, choreographer Brenda Hoyt-Brackman and intimacy director Julia Fisher to bring The Addams Family to life.
 
Now a New York City-based director/choreographer, photographer, filmmaker and union performer, Simpkins is thrilled to return to his alma mater to create the Addams Family world on the Freed Center stage. "Ask any generation alive today to describe the members of the infamous Addams Family and you'll probably get a variety of contradicting answers. There have been countless adaptations, spin-offs, retellings and expansions on the iconic characters...," he says. "The musical presents our recognizable characters on a common search for an unrelenting desire of appreciating, discovering, reclaiming and absorbing themselves in LOVE. Each of our couples are at different stages of life and relationships, highlighting not only unexpected hilarious crossroads and life lessons, but a whole new heart to the family we've enjoyed for decades."
 
Cast members charged with performing the iconic Addams Family characters are seniors Carina Milano, from Chicago, Illinois, as Wednesday; Hannah Enciso from Romeo, Michigan, as Pugsley; Garrett Fant from Hilliard, Ohio, as Uncle Fester; Dani Miller from Charlottesville, Virginia, as Grandma; sophomore Katja Roberts from St. Petersburg, Florida, as Morticia; freshmen Brady Griffin from Rochester, New York, as Lurch; and Lior Shaham from Westchester, New York, as Gomez.
 
The new characters introduced in the musical are Wednesday's new love interest who is played by sophomore Andrew Holdsworth from Parma Heights, Ohio; his parents portrayed by junior Olivia Gierke from Toledo, Ohio and freshman Gavin Hull from Ontario, Ohio; and the many ancestors including Jacob Bassitt from Ada, Ohio, Grant Bell from Brunswick, Ohio, Isabelle Fisher from Columbus, Ohio, Matthew Garcia from Mentor, Ohio, Andi Brooke Keller from Columbia Station, Julie McConnell from Charlotte, N.C., CJ Miller from Findlay, Ohio, Adalyna Mislevy from Macomb, Michigian, Sydney Mistretta from Baton Rouge, Lousiana, Gabrielle Sophia Mouch from Cincinnati, Ohio, Armani Ponder-Keith from Akron, Ohio, Pype Sharkins from West Milton, Ohio, and Sophia Turk from Perrysburg, Ohio. Ross Fogle from Oxford, Ohio and Ren Gleason from Avon, Ohio are also serving independently as understudies for Pugsley, and Uncle Fester/Lurch, respectively.
 
Designers for the production consist of ONU resident costume designer Ameera Ansari along with many guest artists including Trey Brazeal as lighting designer; Amy Schmitt, BFA '22, makeup designer; Carrie Mossman, props designer; Cricket S. Myers, sound designer; Kristin Ellert, additional scenic designer; and Ren Cassidy from Van Wert, Ohio, assistant lighting designer.
 
Other ONU staff members on the production staff include Brian Sage as producer; Kathleen E. DeVault, production manager; Brian Phillips, technical director; and Elynmarie Kazle, stage management mentor.
 
ONU students on the production staff are Juliana Kelly from Cleveland, Ohio, as stage manager along with assistant stage managers Fiona Burau from Mooresville, North Carolina, Maddy Burtt from Manchester, United Kingdom and Morgan Francis from Austin, Texas; Levi Dubach from Ashtabula, Ohio, as props head assisted by Rachel Boyle from Morrow, Ohio and Andi Brooke Keller, dance captain; and Jackson Kelly from Las Vegas, Nevada, lobby display creator.
For more information about The Addams Family or other events in the Freed Center's 2022-2023 Season, visit  www.FreedCenter.com or call the Box Office at 419-772-1900 to receive a season brochure.