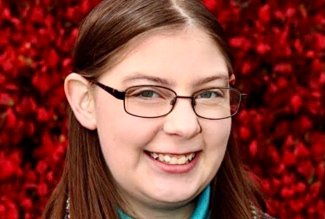 Ohio Northern University student Kyra Hanes has been named as a Campus Compact Newman Civic Fellow. She is one of 173 student civic leaders from 38 states, Washington, D.C. and Mexico within the organization's 2022-2023 cohort.
Campus Compact is a national coalition of colleges and universities working to advance the public purposes of higher education. The Newman Civic Fellowship recognizes students who stand out for their commitment to creating positive change in communities locally and around the world. The fellowship is named for the late Frank Newman, one of Campus Compact's founders, who was a tireless advocate for civic engagement in higher education. In the spirit of Dr. Newman's leadership, fellows are nominated by Campus Compact member presidents and chancellors, who are invited to select one outstanding student from their campus each year.
Hanes is a third-year social studies and history major who has been an active student leader in addressing the issues of food waste in America. For the past four years she has been working with her past environmental science teacher, Ashley Dulin-Smith, and her partner, Meghan Bartsch, to acquire a Grind2Energy unit in her alma mater, Dublin Jerome High School. As a high school junior, Hanes was introduced to the Legacy Project, a project designed to have students create positive impact on their school. After learning about Grind2Energy, a company that turns food waste into usable energy, her eyes were opened by observing her lunch periods and seeing how much food is being thrown away. Knowing this unit was needed in her school, she overcame obstacles and challenges while persevering to work toward her goal. Thanks in part to an Ohio EPA grant, Dublin Jerome High School was the first public school in the nation to install a Grind2Energy unit.
As a 2022 Newman Civic Fellow, Hanes will engage in a year of learning and networking opportunities provided by Campus Compact that emphasize personal, professional and civic growth. Each year, fellows participate in numerous virtual training and networking opportunities to help provide them with the skills and connections they need to create large-scale positive change. The cornerstone of the fellowships is the Annual Convening of Fellows, which offers intensive skill-building and networking over the course of two days. The fellowship also provides fellows with pathways to apply for exclusive scholarship and post-graduate opportunities.
"We are proud to name such an outstanding and diverse group of student Newman Civic Fellows," said Campus Compact President Bobbie Laur. "Their passion and resolve to take action on a wide range of issues challenging our neighborhoods and communities is inspiring and deeply needed. We cannot wait to engage with them through this transformative experience."
The Newman Civic Fellowship is supported by the KPMG Foundation. Learn more here.