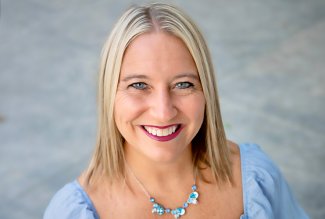 Alisa Agozzino, BA '01, Ph.D., APR, associate professor of public relations at Ohio Northern University, received the Outstanding Educator Award at Public Relations Society of America's national conference held recently in Nashville, Tennessee.
As ONU's PR program head, Agozzino has taught over 16 different classes within the major and developed a social media minor for any major on campus. She has received numerous awards for teaching, including the international Pearson Award for Innovation in Teaching with Technology.
Agozzino's research interest lies in social media tools within the public relations field, and her current research agenda examines how social media impacts different industries. Her work has been published in nearly 30 academic and trade publications such as the Public Relations Review, Journal of School Public Relations, Public Relations Journal; and the books Social Media and the Changing Landscape of Brand Communication, The Emerging Media Handbook: Theoretical and Applied Trends in Social Media and CMC, and the PR News Writer's Guidebook.
For the past 10 years, Agozzino has served as a PRSSA adviser, and she's been an active member of the PRSA Educators Academy since 2008. She also serves Central Ohio PRSA as a Leadership Assembly delegate, social media chair, treasurer, and in 2024 will be the chair. Central Ohio PRSA also recognized her with the Walt Siefert Award for Outstanding Service to PRSSA.
Additionally, PRSA's East Central District awarded Agozzino with the Platinum Award for service to PRSSA. She has also been recognized as the PRSSA Faculty of the Year. Next month, she will be awarded yet again with the Plank Center for Leadership in Public Relations' Bruce K. Berger Educator Mentor award.
"I'm beyond grateful and humbled by this recognition," said Agozzino while accepting her PRSA award. She explained she hadn't initially planned to become a teacher, "but life decided to throw me some blessings."
Ten Ohio Northern University Public Relations Student Society of America chapter members were in attendance to cheer her on.