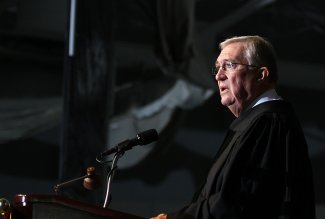 ONU mourns the passing of distinguished alumnus, former University trustee, and philanthropist Dr. Clayton Mathile
The Ohio Northern University community is saddened about the passing of one of the University's most successful alumni and biggest champions. Dr. Clayton "Clay" Mathile, BA '62, Hon.D. '91, entrepreneur, philanthropist, and former University trustee, died on August 26, 2023, at age 82.
"The face and history of our University is forever changed thanks to the generosity of Clay, his wife Mary, and the Mathile family. Generations of students will continue to benefit from their contributions. We mourn his passing, while celebrating a life well lived," said ONU President Melissa J. Baumann, Ph.D.
Mathile's life epitomized the American Dream. He grew up on a modest family farm in Portage, Ohio, and went on to become a billionaire businessman, entrepreneur, and philanthropist.
After he achieved extraordinary professional success, Mathile turned his attention toward helping others. He and Mary formed the Mathile Family Foundation and he became what he described as a "social engineer" committed to using his time, talent, and treasure to advance the Dayton community.
ONU was blessed to be on the receiving end of the Mathiles' incredible generosity. The Mathile Center for the Natural Sciences, an academic research and learning center on campus, was made possible by a gift from the Mathiles. The couple also established the Mathile Scholars program, which provides a renewable, merit-based scholarship to up to two recipients each year.
Mathile once said he learned the importance of hard work and education from his parents and his aunt. Throughout his life, he desired to learn, strive, and innovate. After graduating from ONU in 1962, where he played on the men's basketball team, he began his career as an accountant at General Mills and then the Campbell's Soup Company.
In 1970, he became the seventh employee at the Iams Food Company in Dayton, which at the time was a small dog food company with annual revenues of $500,000. He worked his way up to the position of vice president and co-owner in 1975, president and CEO in 1980, sole owner in 1982, and chairperson of the board in 1998. He sold Iams to Procter & Gamble for $2.3 billion in 1999. From the proceeds of the sale, he gave every Iams employee a bonus, no matter their tenure.
At this point in his life, Mathile shifted his focus to philanthropy. He and Mary, through the Mathile Family Foundation, provided more than $500 million dollars in support of projects and non-profits in the Dayton region.
Mathile not only championed the city of Dayton, he also supported his alma mater. He served on ONU's Board of Trustees and the College of Business Advisory Board, and he co-chaired the University's campaign for the 21st century. Additionally, he and Mary became Life Members of the Lehr Society, ONU's top giving society.
They became interested in supporting STEM disciplines on campus through their friendship with Dr. Terry Keiser, faculty emeritus in biology.
At the time, Mathile noted ONU's excellence in the core competencies of math and science. "The new center will ensure ONU's leadership position in both critically important disciplines for years to come," he predicted.
The Mathile Center, a 95,145 square-foot, student-centered facility, opened in 2006 and continues to be a premier campus facility.
The Mathiles' interest in supporting future generations of leaders led them to establish the Mathile Scholars program. Since 2004, up to two renewable Mathile scholarships are awarded to top scholars every year. To date, 38 ONU students have benefited from the scholarship program.
For many years, he and Mary would meet with the Mathile Scholars and share advice. Andrea (Meers) Diefenthaler, BSBA '12, MPPA '13, received a Mathile scholarship in 2009. She now enjoys a successful accounting career at Findlay, Ohio-headquartered Marathon Petroleum Corporation.
She said: "I have been so sad to hear of Clay's passing. Receiving the Mathile scholarship was the stepping stone for my success. When I was attending ONU, every time I would see the Mathiles, they would remember what I was doing and what was important to me—they truly cared. They also offered great personal and professional advice, and there was never a shortage of laughs. Being part of the extended Mathile Scholar family is one of my most treasured memories from ONU."
Mathile's legacy will endure at ONU, says President Baumann. "I had the opportunity to spend some time with Clay shortly before joining the University. I was touched by his kindness and thoughtfulness, and deeply moved by his passion for education and his commitment to ONU students. The entire ONU community is deeply grateful for the enduring legacy he built at Ohio Northern."