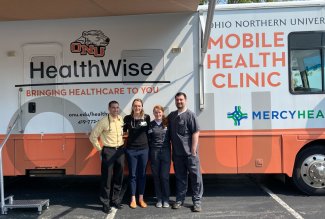 (Pictured from left: Dr. Sean Gallagher, Mercy Health; Dr. Kathryn Ruck, Mercy Health; Olivia Welch, PharmD '21, ONU HealthWise pharmacist and pharmacy instructor; and Chase Kiriazis, PharmD '21.)
A recent health emergency at a Lima, Ohio event illustrates how a five-year partnership extension between Ohio Northern University's HealthWise Mobile Health Clinic and Mercy Health-St. Rita's Medical Center will ensure that more lives will be positively impacted.
 
According to Raabe College of Pharmacy faculty, the mobile health clinic, staffed by students, faculty, and physicians in St. Rita's Internal Medicine residency program, was at a block party in Lima to offer free health screenings when a fourth-year pharmacy student detected high blood pressure in a woman who was 38 weeks pregnant. The team feared the cause was pre-eclampsia, a potentially fatal prenatal complication.
 
"With help from the Mercy Health team on site, the patient was taken directly to the hospital" where a C-section was performed and a healthy baby delivered, Pharmacy Dean Stuart Beatty, PharmD '03, said. Mother and baby are doing well.
 
On another occasion, a mobile health clinic patient who was having a heart attack was sent to Mercy Health.
 
"Some pretty amazing stuff" happens because of the mobile clinic, Beatty said.
 
"We are grateful for our continued partnership with Mercy Health. The HealthWise Mobile Health Clinic is a powerful example of what is possible when multiple organizations join forces with a common goal," said Michael Rush, PharmD '05, director of ONU HealthWise and Pharmacy Residency programs and assistant clinical professor of pharmacy practice.
 
St. Rita's Medical Center internal medicine residents working with the mobile health clinic to further both institutions' service-based missions provide significant value to the quality of healthcare expertise offered. Residents ensure the clinic operates as a "fully-functioning primary care office on wheels," said Rush. Full physical exams are offered and clinic patients "can schedule appointments and follow-ups for chronic conditions as they would with a brick-and-mortar primary care provider office," he added.
 
The mobile health clinic, housed in a fully-equipped 38-foot RV, launched in 2015 as a response to surveys that indicated many residents throughout Hardin County experience significant poverty, have higher rates of illnesses and reside in areas designated by the Health Resource and Services Administration as medically underserved. The clinic travels up to four times each week to churches, schools and other community locations in Hardin and Allen counties to help residents overcome access, cost and healthcare provider availability barriers. Its goal is to provide knowledge and resources to address health-related concerns and empower individuals to improve their health.
 
The HealthWise Mobile Health Clinic, initially funded with a U.S. Department of Health and Human Services grant, operates under the umbrella of ONU's comprehensive on-campus HealthWise pharmacy and renowned academic program. It provides county residents with vital health and wellness services such as lipid, glucose and diabetes screenings; blood pressure checks; vaccinations; disease risk assessment; tobacco cessation; and referral of patients to primary medical care. The clinic also partners with organizations such as the Kenton-Hardin Health Department for effective outreach.
 
In 2020, it was designated as a state-sponsored mobile mass vaccination clinic for COVID-19 vaccinations. Students and faculty vaccinated thousands of residents at fairgrounds, fire departments, and other sites in 14 Ohio counties.
 
Educationally, the mobile clinic offers a one-of-a-kind, hands-on experience for pharmacy students to practice their skills and engage with the surrounding community, including underserved rural residents.