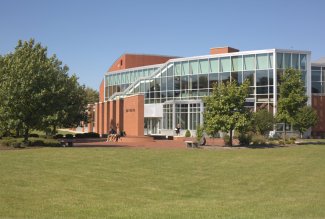 The James F. Dicke College of Business Administration at Ohio Northern University has received full five-year extension of accreditation from the Association to Advance Collegiate Schools of Business (AACSB).
AACSB-accredited schools have the highest quality faculty, relevant and challenging curriculum and provide educational and career opportunities that are not found at other business schools. Of the more than 16,000 business programs in the world, less than 6% have earned AACSB accreditation.
"This full extension of accreditation is a tribute to the talented Dicke College faculty and staff. Our College provides a very focused high-impact educational experience that is based on experiential learning and prepares our students for success in their careers," College of Business Dean John C. Navin, Ph.D., says.
"Beyond helping students understand the theory of business, we emphasize the importance of developing the analytical skills that allow our graduates to apply these theories in an ever-changing workplace," Navin continues. "We stress the importance of developing interpersonal and teamwork attributes that employers value. Further, the Dicke College of Business offers students a range of experiential-learning opportunities, such as internships, study abroad, and live cases with business clients that connect the classroom with the workplace."
This focused approach yields results. In graduating classes of the past two years, 99.5% of the students were employed or enrolled in graduate school within six months.
The ONU Dicke College of Business Administration offers undergraduate programs in accounting, management, marketing, pharmaceutical and healthcare business, finance, public relations and sport management. The Dicke College also offers a Master of Science in Accounting program with a concentration in forensic accounting and audit services.
Founded in 1916, AACSB is the longest-serving global accrediting body for business schools and the largest business education network connecting students, educators and businesses worldwide. 
Achieving accreditation is a process of rigorous internal focus, engagement with an AACSB-assigned mentor and peer-reviewed evaluation. During this multi-year path, schools focus on developing and implementing a plan to align with AACSB's accreditation standards. These standards require excellence in areas relating to strategic management and innovation; student, faculty, and staff as active participants; learning and teaching; and academic and professional engagement. 
Once accreditation is achieved, each institution participates in a five-year continuous improvement peer-review to maintain high quality and extend its accreditation.