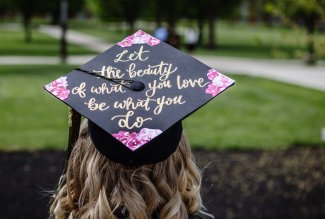 Ohio Northern University's Commencement Weekend '23, to take place this Saturday and Sunday, will offer the Polar Bear community the chance to celebrate its many outstanding graduates. Three students who have been selected to speak at each of the ceremonies, along with other exceptional seniors, are highlighted here.
 
Ceremony Speakers:
 
Anna Russ will serve as the College of Pharmacy student speaker. As a pharmacy student, Anna was a member of the COVID-19 testing team at Staumbaugh Hall, and participated in multiple large-scale COVID vaccine clinic days. She also served on the Pharmacy Admissions Committee for two years, was Delta Zeta chapter president in 2020, and was vice president of community service for Panhellenic Council. As a music minor, Anna was a member of University Singers; took piano lessons; and toured and performed in France, Belgium, and the Netherlands in 2018 with University Singers, a trip that included performing in the Notre Dame Cathedral in Paris.
Zachary Kratowicz will serve as the undergraduate student speaker. Kratowicz is graduating with a Bachelor of Science in computer engineering. He was a member of numerous organizations on campus, helped coordinate large campus events such Orientation and Welcome Weekend; and served as ONU mascot Klondike since his freshman year. Kratowicz was also instrumental in launching the online Northern Network events calendar. He interned with American Electric Power in Summer 2022 and Spring 2023, and will continue as a full-time employee after graduating.
Kris Kristoferson will serve as the College of Law student speaker. He is a "Double Bear," having also earned a Bachelor of Arts in chemistry in 2020. Kristoferson was a law clerk for Schroeder Law, LLC; a judicial intern for Hancock County Common Pleas Court; and participated in the American Bar Association's Judicial Internship Opportunity Program by working as a judicial intern for the 14th Judicial Circuit Court of Illinois. He has been an associate and staff editor for Ohio Northern University Law Review, participated in ONU Moot Court, and was a teaching assistant for constitutional law and contracts courses. After graduation, he will become a full-time attorney for Albrechta and Coble Law Firm in Fremont, Ohio.
Other Outstanding Graduates:
Vini Vieira de Souza will earn a Bachelor of Science in civil engineering. Souza grew up in an impoverished Brazilian neighborhood known as a "favela" in the city of Sao Paulo, the fourth most populous city in the world. His mother worked long hours as a housekeeper and sacrificed her own needs to provide food and necessities for Souza and his two older brothers. Growing up, Souza attended school from 7 p.m. until midnight so that he could work during the day. To get buy-in from strangers for his dream of studying in the U.S., he brainstormed a plan. For every donation he received, he would offer something in return—a handwritten note; a picture of him next to Lake Erie when he arrived in the U.S.; a blood donation; an hour spent playing with children in a local orphanage. His idea worked. Over 1,000 people donated to help him come to the U.S., and he repaid each donor with a gesture of goodwill. He became a student at Spencerville High School before enrolling at ONU. After graduation, he will work at Wessler Engineering in Bluffton, Ohio, where he has interned. Read the full story.
Alyson and Andrea Hoffman, twins from Marion, Ohio who have cystic fibrosis, have excelled at ONU when it comes to academics and advocacy. "We want to make sure we give a voice to otherwise do not have one. Every story is different. We want to be certain that children have what they need to live a full life," they said for a feature written about them when they were freshmen. Alyson is the national president of Public Relations Student Society of America, is a resident assistant and is a member of the Plank Center for Leadership in Public Relations. She will graduate with a Bachelor of Science in business administration and will become a senior marketing analyst for Cardinal Health. Andrea will graduate with a Bachelor of Science in political science and public relations and will attend ONU's Pettit College of Law. She is a founding Fellow of ONU's Institute for Civics and Public Policy, is a resident assistant, a Student Senate member and serves on Ohio Gov. Mike DeWine's Ohio Rare Disease Advisory Council.
Anna Eskender will become the fourth pharmacist in her family and third to graduate with a PharmD degree from ONU's Raabe College of Pharmacy. She is a first-generation native-born American to parents who were born and raised in Ethiopia. During the pandemic, she worked at a local hospital in her hometown of Loveland, Ohio, while attending classes online. She served leadership roles with the local chapter of the American Pharmacists Association, was vice president of the ONU African Student Association, and was a member of Black Student Union. "Being able to have a woman, and not only that, but a woman of color, also have a leadership role in a big pharmacy organization, was something I felt like I could really relate to," Eksender said. After graduating, Eskender will enter a residency program with Luminous Health in Annapolis, Maryland.