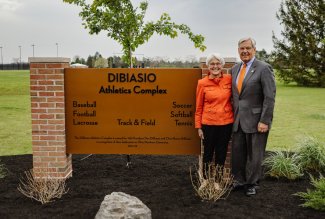 In recognition of President Dan DiBiasio and First Lady Chris Burns-DiBiasio's 11-year tenure at Ohio Northern University, and their athletics program support, the outdoor athletic fields on the west side of campus were dedicated in their names during an April 30 ceremony
The DiBiasio Athletics Complex supports baseball, football, lacrosse, track and field, soccer, softball and tennis.
Dan DiBiasio has overseen the transformation of the newly named Kerscher Soccer and Track & Field Stadium, the installation of turf fields and lights at both Dial-Roberson and Kerscher stadiums, the addition of a new tennis pavilion, as well as the establishment of men's and women's lacrosse teams and an innovative esports program that have attracted additional students to ONU.
Burns-DiBiasio, director of community relations, and DiBiasio, who will retire in June, have also been frequent spectators at games held at the complex.
Ohio Northern University's Board of Trustees issued proclamations that approved the DiBiasio Athletics Complex dedication, a president emeritus designation for DiBiasio, and Honorary Doctor of Humane Letters degrees for DiBiasio and Burns-DiBiasio.