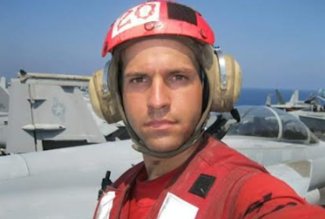 Ohio Northern University will host a Veterans Day wreath-laying ceremony for the campus and community on Friday, Nov. 10 at 11 a.m. at the Henry Solomon Lehr statue near the front of camps along Main Street. The featured speaker will be U.S. Navy veteran and ONU alumnus James Lee, BA '16.
 
Petty Officer 3rd class Lee served from 2006-2011. His primary positions were as a boatswain's mate and aviation ordnanceman. While stationed in Guam on the USS Frank Cable AS40, he took part in multiple small deployments in the Pacific in support of submarine operations for three years. He also took part in a six-month deployment to the Persian Gulf supporting troops on the ground in Afghanistan during Operation Enduring Freedom.
 
After his military service, Lee enrolled at ONU, where he dual majored in criminal justice and sociology and was very active with campus organizations such as Ohio Northern Veterans Organization, ONU Lions Club, and Delta Sigma Phi fraternity. He was also in academic societies Alpha Phi Sigma for criminal justice and Alpha Kappa Delta for sociology.
 
Lee has worked for the Ohio Department of Rehabilitation and Correction for eight years. He is a correctional sergeant at the Allen Oakwood Correctional Institution in Lima. He married Marissa Watson Lee and they have a 6-year-old son, Rykin Watson Lee. The family lives in Lima, Ohio.
 
In the case of inclement weather, Friday's ceremony will be held in Presser Hall's Snyder Recital Hall.