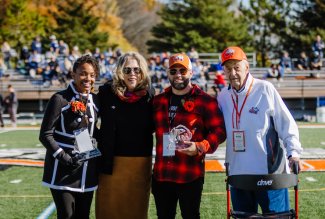 (Pictured from left: award recipient Chelsea Mack; President Melissa J. Baumman, Ph.D.; award recipient Tarry Summers; and alumnus William "Bill" Robinson.)
Two Ohio Northern University graduates received young alumni awards during Homecoming Weekend in October 2023.
 
The William L. Robinson Young Alumni Award was established in 2004 by the Alumni Advisory Board to honor and recognize William L. Robinson and the 50 years he dedicated to impacting Ohio Northern University students. This award recognizes alumni who graduated within the last fifteen years and who demonstrate passion and loyalty toward their profession, community and alma mater.
 
Chelsea Mack, BSBA '11, is the mentoring attorney for Afghan Projects with VECINA based in Austin, Texas. She is responsible for creating online training materials and mentoring pro bono attorney and non-attorney volunteers on how to successfully complete immigration applications and proceedings for Afghan nationals who were evacuated after the Taliban takeover in 2021. Chelsea joined VECINA after serving the immigrant population as an attorney with Brown Immigration Law in Cleveland, Ohio, where she handled a myriad of case types including asylum, family-based, citizenship and removal defense. She received the Prevention of Child Sacrifice and Human Trafficking Advocate Award presented by Uganda's Ministry of Gender, Labour, and Social Development, in partnership with Kyampisi Childcare Ministries.
 
While attending ONU, Chelsea participated in the Hanyang Fellowship exchange program in Seoul, South Korea; completed a summer semester in the Mediterranean with Semester at Sea; played violin in the ONU Symphony Orchestra; sang in People of Worship; served as president of the Fellowship of Christian Athletes; and participated in the Black Student Union, the International Business Club, and the Dicke College of Business Dean's Advisory Council. Throughout her studies, Chelsea achieved the honors of Mortar Board, Phi Beta Delta, Beta Gamma Sigma, Phi Kappa Phi and Alpha Lambda Delta. Chelsea is also a recipient of the Dankook Award. Chelsea majored in international business and economics and minored in Spanish.
 
Tarry C. Summers, BS '08, in exercise physiology, is the CEO and principal of Ohio Home Company based in Columbus, a diverse real estate solutions firm that specializes in real estate acquisitions and asset management. Since 2010 the company has acquired and rehabilitated over $100 million in real estate assets in Columbus. The company's mission is to revitalize neighborhoods by providing housing solutions that mutually benefit investors and local Columbus communities. Ohio Home Company takes pride in revitalizing neighborhoods by providing housing solutions that mutually benefit investors and local Columbus communities. Tarry is also the CEO and principal of The Pro's Gym in Columbus.
 
Tarry was recruited by ONU Head Football Coach Dean Paul. He went on to become a four-year starter, team captain, and serve on the student Leaders Council. During his time at ONU he was also a member of the American Marketing Association, Fellowship of Christian Athletes, and was a drummer for Korephase and 8Kount rock bands. He received the Clyde Lamb and Daniel Gennett awards. He is an ONU Football Endowment Fund contributor and Polar Club member.