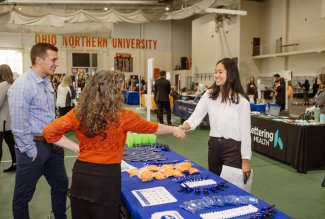 The most recent full-time job and graduate school placement rates for Ohio Northern University students who graduated in 2022 reflects a continuing positive trend.
 
The University-wide placement rate was at 96%, holding relatively steady compared to the 2021 placement rate of 97%. The College of Business saw a 100% placement rate while the Colleges of Arts and Sciences, Engineering and Pharmacy experienced 95%, 96% and 98% percent placement rates respectively.
 
The numbers are derived from a survey of the most recent graduates, 95% of whom responded.
 
Andrea Domachowski, career services director, says the high academic caliber of ONU students and their inherent insistence on succeeding are significant placement rates drivers.
 
"ONU students are academically minded and goal oriented. ONU provides a community, including faculty and staff support, and a strong foundation from courses and project-based learning," explains Domachowski. "Finally, students are driven, as they have many opportunities to lead and develop life-long skills through student and professional organizations as well as experiential and work-based learning."
 
"Ohio Northern University's consistently high placement rate reflects the dedication of faculty and staff to support student learning and help create opportunities for the application of learning," says Lynda Nyce, associate vice president for academic affairs. "Our Polar Careers staff offer strong career fairs and assessments, joining our faculty in advising students along the career search process."
 
Leaders also credit Ohio Northern's signature blend of hands-on learning and caring faculty and staff with helping graduates find jobs and enroll in graduate programs right away.
 
"Through capstone experiences in each academic program, research and experiential learning, ONU students receive valuable mentoring from faculty and staff that helps prepare them for their first destination job or graduate school," Nyce adds.