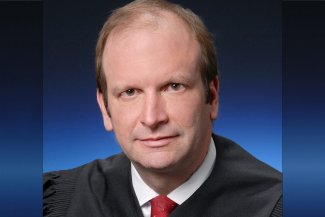 Ohio Supreme Court Justice Pat DeWine will offer a free, public presentation on "The Role of Justice" at Ohio Northern University on Tuesday, Sept. 13 at 11 a.m. in Tilton Hall, Room 129.
 
Justice DeWine began his six-year elected term on the Ohio Supreme Court in 2017. An excellent writer, he is known for the quality and thoroughness of his legal opinions, which reflect his strong belief in judicial restraint and his respect for the constitutional roles of the other coequal branches of government.
Justice DeWine has served at all levels of the Ohio judiciary. Prior to his election to the Supreme Court, Justice DeWine served for four years on the First District Court of Appeals, and prior to that, for four years on the Hamilton County Common Pleas Court. Other positions include working for Cincinnati law firm Keating, Muething & Klekamp; and serving on the Hamilton County Board of Commissioners and on Cincinnati City Council.
He also has a strong commitment to furthering the rule of law through education. He is an adjunct professor at the University of Cincinnati College of Law where he teaches Appellate Practice and Procedure. In addition, he has taught undergraduate courses at the University of Cincinnati in Ohio Government & Politics and American Courts.
Justice DeWine, the son of Ohio Governor Mike DeWine, JD '72, graduated from the University of Michigan Law School in the top 10 percent of his class with Order of the Coif honors.
 
His Sept. 13 presentation is sponsored by the ONU Law student chapter of The Federalist Society.