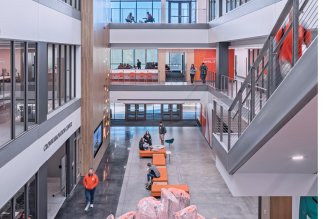 When it comes to college rankings from trusted sources such as U.S. News and World Report, Ohio Northern University remained high on the latest lists, which again emphasized features such as the institution's excellent academic offerings, noteworthy job placement rates and favorable viewpoints about campus culture.
 
U.S. News and World Report
Ohio Northern ranked 4th in the Best Regional Colleges Midwest Rankings for 2022-23. At 3.7 out of four points, the University also garnered the highest peer assessment in the Midwest, which represents the best number achieved in this category since at least 2010.
Also, ONU was ranked the 2nd Best Value among regional colleges, highlighting how its student career outcomes make it a strong, investment-worthy endeavor.
Out of U.S. News & World Report's 100-point system that takes into account benchmarks such as student-faculty ratio, the average federal loan debt of graduates and student body demographics, ONU retained its score of 92. It continues to remain competitive when it comes to retention and graduation rates, touting an 85% first-year retention rate and a 73% graduation rate.
The College of Engineering in particular has cause to celebrate. It ranked 21st on the national undergraduate-only engineering rankings, eight points higher than last year's list. Its peer score also increased from 3.2 to 3.5.
"We're so pleased to be consistently recognized as one of the best schools in the nation," says President Melissa J. Baumann. "These outcomes are the result of our talented, committed and highly knowledgeable faculty and staff who help our students achieve both academically and in their post-graduate careers, and to our supportive University community as a whole that makes our institution so distinctive. Our students are encouraged to explore, fail, succeed and experience joy here in an environment that fully supports their academic and personal growth. Regardless of rankings, helping them find and live the best version of themselves is an absolute privilege."
"While no rankings are perfect, it is wonderful to see our latest ranking in the U.S. News & World Report," says College of Engineering Dean John-David Yoder.  I am so grateful to my peers across the country who have recognized the amazing work of our faculty and staff, and the success of our students and alumni.  We will continue to provide our students with world-class opportunities, hands-on education, and outstanding faculty who know them by name. This recognition is humbling, and will motivate us to continue to work to provide an even better undergraduate experience for our students."
 
The following are other recent rankings in which ONU has also excelled:
 
Princeton Review
 
The Princeton Review included Ohio Northern in its 2022 edition of "The Best 387 Colleges" annual college guide. This service ranks colleges and universities largely on the responses of students regarding their college experience. The publication notes that "many students are attracted to the 'prestigious' Raabe College of Pharmacy" and ONU's "other outstanding academic options," such as the highly-ranked accounting program, political science program and engineering school.
"Students are also drawn to ONU's 'good financial aid' and 'varsity sports,'" The Princeton Review stated, "with one athlete adding that ONU 'was my most affordable option of Division III schools where I could play soccer and receive a quality education.'"
Students also told the publication about Ohio Northern's "renowned faculty" who are "outstanding and all influential in their field." Professors are "friendly," "down to earth," available for help and consultation, and "care about the students' well-being and future endeavors."
"As a whole, students call ONU 'a top-notch education with a family-like atmosphere that is very conducive for learning and excelling in many disciplines,'" the publication states.
Washington Monthly
Washington Monthly moved Ohio Northern up, listing it at No. 2 this year compared to No. 6 previously in its national "Bachelor's Colleges Ranking" for 2022. ONU also ranked No. 8 in the "2022 Best Bang for the Buck Rankings: Midwest."
This guide ranks four-year liberal arts institutions based on their contribution to the public good in three broad categories: social mobility, research, and promoting public service.
Forbes
ONU ranked 314 on Forbes' "America's Top Colleges 2022" list. Forbes uses federal databases, Carnegie Classification information, and other entities such as Payscale.com. Along with academic success levels, Forbes examines factors such as graduation rates and return on investment. The financial publication states it "spotlights schools that offer an excellent education at a great price, graduate high-earners and propel students to become successful entrepreneurs and influential leaders in their fields."
 
Forbes only ranks a slice of American's colleges and universities, just 500 four-year schools this time around drawn from the nearly 2,700 such degree-granting institutions in the U.S. Forbes notes that they are thereby showcasing "the finest in American education." Ohio Northern was one of only 15 Ohio higher education institutions listed this year.
Niche.com
 
Niche.com's "2023 Best Colleges" rankings are "based on analysis of key statistics from the U.S. Department of Education and millions of reviews," the site states. It is also known for reviewing K-12 schools, graduate schools and places to live.
 
Its rankings for ONU include:
·      Best Colleges in Ohio: No. 11 of 79
·      Best Christian Colleges in America: No. 27 of 345
·      Best Colleges with No Application Fee in America: No. 51 of 651
Zippia.com
 
ONU is ranked No. 1 in Ohio on this site's "Best College in Each State for Getting a Job in 2021." It's listed at No. 3 nationally from a short list of 10 institutions.
 
"These 10 colleges do an exceptional job of preparing their students for the workforce upon graduation. Unsurprisingly, these colleges have ranked," the site explains.
 
"Whether it comes from excellent career centers, strong academic offerings, stellar reputations, or networking opportunities, certain colleges just flat-out do a better job of helping students launch their careers than other colleges," Zippia.com maintains.