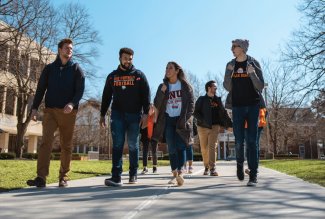 Ohio Northern University has embarked on an ambitious endeavor to enhance student success. The Forward Together Campaign seeks to raise $100 million that will significantly support scholarships, innovative teaching and programs, and campus structural improvements. With several generous donors having already contributed to the campaign, the University has surpassed $87 million of this ambitious goal.
More funding to help students offset tuition costs, more opportunities for faculty research and innovative educational approaches, and improved facilities will better position ONU to graduate individuals who will not only meet the world's needs, but also exceed their own expectations.
The campaign's public launch coincides with the recent appointment of President Melissa J. Baumann, whose strategic vision for ONU complements and strengthens Forward Together's objectives.
"I'm honored to have joined Ohio Northern University during this crucial and exciting time in higher education. Through this campaign, we will continue investing in our students and their futures, initiating a vision that we can and must achieve," says President Baumann. "We plan to build on the things that have always made ONU great – outstanding faculty, excellent academic programs, and co-curricular opportunities delivered in a stimulating and supportive environment."
The four Forward Together campaign priorities are:
    •    Scholarships, $50 million: To today's students, financial aid is more important than ever. By increasing scholarship funding, we'll make our student body more inclusive, provide students with enriching travel opportunities, and attract high-achieving scholars from every financial circumstance. Funding will go toward existing and new scholarships.
    •    Teaching and Learning Excellence, $30 million: Gifts will enable us to recruit and retain outstanding faculty who remain committed to the student experience; expand academic majors and add new ones; and fortify our programs, colleges, schools, and centers – all of which directly benefit students.
    •    Facilities for the Future, $5 million: State-of-the-art academic, athletic, and recreational facilities are the places where memories are formed and futures begin. Additional funds will provide and upgrade spaces for collaboration, competition, learning, performing arts, and social activities for our top scholars, athletes and artists.
    •    The Northern Fund, $15 million: The Northern Fund provides flexible dollars to quickly respond to emerging opportunities and unexpected needs, which is of paramount importance in today's educational landscape.
"This University is very special and means more to me than words can express," Hanley H. Wheeler, III, BSPh '82, Board of Trustees member and Forward Together campaign chair, says. "It's where I met my wife and obtained the education and experiences that launched my career. These four priorities will provide additional help for our students and continue to move ONU forward, building on the momentum of a remarkable institution that has been changing lives for more than 150 years. I'm thrilled to be a part of this huge effort, and I'm hoping others will feel the same by helping us – to any degree they are able – reach our goal."
"We're fortunate and grateful to have exceptionally generous and loyal alumni and friends who are committed to ensuring ONU and the next generation of students excel. Many of them are committed, lifelong members of our University community. The support we've already received from so many who care is humbling and inspiring," says Shannon Spencer, vice president for University advancement. "And, we're ready to move forward together!"
To contribute to the Forward Together Campaign, contact the Office of University Advancement, at 419-772-2035 or email  advancement@onu.edu. Learn more at onu.edu/forward-together.