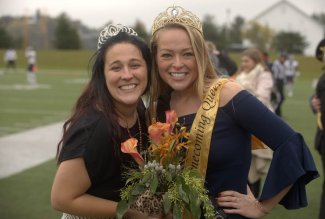 From a fantastic parade to a documentary film debut to football feats, Ohio Northern University will celebrate Homecoming 2021 with memorable activities for alumni, the campus community and the public during its "Loyal Forever" sesquicentennial year.
To see the full schedule of events, visit the ONU Homecoming 2021 webpage.
The Homecoming Parade will return to Ada's Main Street at 10:30 a.m. Saturday, Oct. 2. Grand Marshals will be Donald Beal, BSEd '63 and Ann (Melkerson) Beal, BSEd '61 of Grove City, Ohio. Donald Beal worked in communications industry management for several years. Ann Beal raised the couple's two children and taught, including serving as an ESL teacher. The couple has attended every ONU Homecoming from their student days until the present, including last year when events were cancelled because of the pandemic; they still ventured to campus and travelled the parade route on a golf cart.
After the homecoming parade, the premier of an ONU historical documentary, "Heart of an Ideal," will take place at the Ada Theatre at 11:30 a.m. It will also be shown at 4 p.m. Viewings will be free. The film showcases how founder Henry Solomon Lehr established a clear vision and values, which have lived on at ONU. Defining moments in the life of the University are chronicled, weaving the ONU story through presidential eras following Lehr's and more than a century of growth, trial, triumph, and change.
Also on Saturday, the Polar Bear football team will take on Marietta at 1:30 p.m. at Dial-Roberson Stadium. Courtney M. (Hetrick) Schkurko, BSEE '13 and Kevin J. Saghy, BA '07, the 2021 recipients of ONU's William L. Robinson Young Alumni Award will be introduced during a pre-game ceremony at 1 p.m. The 2021 ONU Athletic Hall of Fame inductees will also be introduced at the pre-game ceremony. They will include: Matthew Ellis, BSME '03; Wesley Hostetler, BS '06; Christina (Mangola) Martinez, BA '10; Elizabeth (Schnelle) Watson, BSBA '10; and Kate Witte.
The Homecoming king and queen will be crowned during halftime.
Other public events will include:
• Heterick Memorial Library will host "Home Sweet Home: Engaging with Our ONU History" on Oct. 2. From 10 a.m. to 2 p.m. the library will offer opportunities to engage with selected materials from its archives that reflect ONU's unique and rich history.
• Also on Oct. 2, Raabe College of Pharmacy's HealthWise Mobile Clinic will offer tours from 11:30 a.m. to 2 p.m. on the tundra between King Horn Sports Center and the Biggs Building. The mobile clinic offers a variety of free health care services to regional residents and this past spring served as a state-sponsored COVID-19 vaccination mobile clinic throughout a six-county area.
• The musical "Beauty and the Beast" will be staged at 7:30 p.m. Oct. 2 and at 2 p.m. Oct. 3 at the Freed Center for the Performing Arts, Biggs Theatre. To buy tickets in advance, visit the Freed Center website. Performances will also be held Oct. 14-17.
• On Oct. 2 the women's tennis team will play Concordia University at 12:30 p.m. at the University tennis courts. The team will also compete against Muskingum University at 4:30 p.m.
Additional alumni and campus community event highlights:
• A 50-year reunion banquet for the Classes of 1971 and 1970 will be held at 5:30 p.m. Friday, Sept. 30 at McIntosh Center.
• The annual invitation-only ONU Athletic Hall of Fame Banquet will be held at 6 p.m. Saturday, Oct. 2 at King Horn Sports Center.
• Heterick Memorial Library and the Office of Multicultural Development will host "OMD Diverse Voices in Conversation: Remembering & Reimagining" at Affinity Commons Building from 4-6:30 p.m. This cross-generational discussion will include alumni of OMD cultural organizations and will serve as an interactive component of a larger recorded collaboration.
• For a course on the University's sesquicentennial, history students will interview alumni about their ONU experiences. Interviews for this oral history project will take place from 10 a.m. to 4 p.m. at Dial-Roberson Stadium.
• A Religious Life Celebration Gathering from 7-9 p.m. at the Chapel Garden or English Chapel (depending on weather) will feature Religious Life staff and organization members sharing memories about Religious Life on campus.
• The campus community will enjoy Saturday afternoon activities on the Tundra and at the sports center with an activities tent, inflatables, a tailgate party and lunch.
• Several open houses, tours, lunches and career-specific programs will be hosted by ONU's six colleges, Greek Life and more throughout Homecoming Weekend.