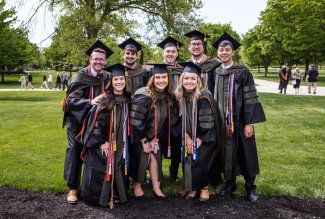 A district court judge, a successful banker and a chief pharmacy officer at an acclaimed hospital system will serve as Ohio Northern University's spring 2023 commencement speakers. The Honorable Stephanie Pearce Burke, JD '94, will be featured at the Pettit College of Law ceremony scheduled for Saturday, May 20 at 10 a.m.; Todd Nesbit, BSPh '84, will participate in the Raabe College of Pharmacy ceremony to be held on Sunday, May 21 at 9 a.m.; and Mike Prescott, BSBA '84, will address undergraduate ceremony guests and graduates on May 21 at 2 p.m.
 
The ceremonies will be held at King Horn Sports Center's field house. 
 
All three commencement speakers will receive honorary doctoral degrees, as will ONU Professor Emeritus Steve Iseman.
 

A financial veteran and community advocate, Prescott is the regional group manager of U.S. Bank's Ohio, Kentucky, Tennessee, North Carolina, Florida, New York, and St. Louis markets. He joined U.S. Bank in February 2011 and is responsible for all the bank's activities and commercial lending efforts in the region. Previously he served as executive director of the Ohio Tuition Trust Authority, where he was responsible for all aspects of Ohio's 529 plan, and before that, he was a member of Huntington Bank's executive team. Prescott graduated with high distinction from Ohio Northern University, where he received an accounting degree. He also earned an MBA, with a focus on finance and marketing, from The Ohio State University.
Judge Burke is a judicial trailblazer whose devotion to serving the public good compelled her to become an advocate for court system reforms that provide a pathway to recovery for those marginalized by mental illness and addiction. She began her legal career in private practice in Louisville, Kentucky, before being elected to Jefferson District Court Judge in 2010. Two years later, she was appointed to the Jefferson County Drug Court, and in 2015, she implemented Jefferson County's first Misdemeanant Drug Court program where she currently presides.
 
While in private practice, Judge Burke noticed that many judges and prosecutors lacked an understanding of the struggles of individuals facing poverty, mental illness and addiction. She became a leading expert and advocate in Kentucky and across the nation for court-ordered assisted outpatient treatment, or AOT. She conducted the first AOT proceeding in the Commonwealth of Kentucky in 2019, and implemented Kentucky's first AOT program that same year. Since then, she has advocated for and gained bipartisan support and state and local funding to expand AOT courts to all jurisdictions within the Commonwealth. Her efforts and advocacy led to the passage of Kentucky's House Bill 127 in 2022 that enacted sweeping changes to the state's mental health statute.
 
Judge Burke has served on numerous committees and task forces, including the Kentucky Judicial Commission on Mental Health. She has overseen an ongoing experiential program with the University of Louisville Brandeis School of Law, providing students with access to courtroom experience.
 

As the head of operations for one of the nation's largest pharmacy departments at a world-renowned healthcare system, Dr. Nesbit is a leading innovator and advocate for the profession of pharmacy. After obtaining his bachelor's degree in pharmacy from Ohio Northern University, he received a doctor of pharmacy at The Ohio State University and an MBA in medical services management at Johns Hopkins University. He began his career as a pharmacy practitioner, but his keen leadership skills and insight led to his elevation to management positions.
Dr. Nesbit served in various clinical and operational leadership roles at the Cleveland Clinic, MetroHealth Medical Center in Cleveland and the Grant Medical Center in Columbus, Ohio before joining Johns Hopkins in 2001, rising through the ranks to his current position: chief pharmacy officer for The Johns Hopkins Hospital, a 1,100-bed academic medical center, and vice president of pharmacy for the Johns Hopkins Health System, which includes oversight of six hospitals and more than 100 front-line clinicians. 
With a visionary mindset, Dr. Nesbit has innovated strategies to free up pharmacists for more direct patient care, and developed a comprehensive analytic infrastructure that allows his team to continually assess the quality of services and improve care. He has also grown the pharmacy residency programs at The Johns Hopkins Hospital and Johns Hopkins Bayview Medical Center and served as preceptor and mentor to dozens of pharmacists, pharmacy residents and pharmacy students. He has also been active in various pharmacy organizations and served as president of the Ohio chapter of the American College of Clinical Pharmacy.
Iseman is a giant in the field of public relations. A professor emeritus at Ohio Northern University, he built the University's highly-regarded PR program from the ground up and advanced the professionalism of the PR industry through his national contributions and influence.
Iseman received his bachelor's degree from Ohio University, master's degree from Xavier University and Ph.D. in philosophy from The Ohio State University. Prior to moving to the classroom, he worked as a public relations practitioner for more than 20 years. He joined the faculty at ONU in 1993, retiring in 2011. During that span of 18 years, he was at the forefront of starting ONU's public relations major program; its Public Relations Student Society of America or PRSSA chapter; and its student-run PR firm, and putting all three on the national map. The high bar of excellence he set for ONU's PR programs and students continues today. As one current PR professor states: "no one wants to be the class that drops that bar."
A beloved teacher, Iseman brought charisma, humor and infectious energy to the classroom every day. His ample use of relatable, real-world examples helped students to connect the dots. His teaching excellence was recognized through numerous honors, including the 2006 Ohio Magazine Excellence in Education Award and the 2008 Tom Poling Practitioner of the Year Award. In 2009, the Public Relations Society of America (PRSA) awarded him its Outstanding Educator Award. Upon receiving this prestigious national award, he humbly stated: "Wow, I'm honored to be alive and get this award, usually you get it after you're dead!"
Throughout his tenure, Iseman modeled for students the importance of professional involvement through his extensive contributions to PRSA. He served on numerous Central Ohio PRSA committees and is past president of the chapter. He has been an ex officio member of the PRSA Educators Academy Board of Directors; a reviewer for PRSA's Certification for Education in Public Relations program; the National Faculty Advisor for the PRSSA; Co-chair of PRSA's Educational Affairs Committee; and a member of the PRSA College of Fellows Executive Board, to name a few. In recognition of his voluminous contributions, PRSA inducted him into its College of Fellows, which is a lifetime achievement.