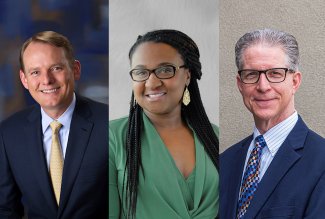 From left, James Dicke III, Sharetta Smith and Randall Myers.
Two successful alumni and a business leader will serve as Ohio Northern University's spring 2022 commencement speakers. Lima Mayor and attorney Sharetta Smith, JD '10, will be featured at the Pettitt College of Law ceremony scheduled for Saturday, May 14 at 10 a.m.; Randall Myers, BSPh '82, will participate in the Raabe College of Pharmacy ceremony to be held on Sunday, May 15 at 9 a.m.; and James Dicke III will address undergraduate ceremony guests and graduates on May 15 at 2 p.m.
The ceremonies will be held at King Horn Sports Center. For the undergraduate ceremony, each student will be allowed to have up to eight guests attend. The ceremonies for law and pharmacy will not have guest limitations due to smaller graduating cohorts.
All three commencement speakers will receive honorary doctoral degrees, as will distinguished attorney and ONU alumnus Charles DeMonaco, ONU President Dan DiBiasio and his wife, Chris Burns-DiBiasio, ONU director of community relations.
Dicke III is the president of Crown Equipment Corporation based in New Bremen, Ohio. As one of the largest privately held companies in the United States, Crown is an international company with offices in more than 20 countries, more than 15,000 employees and a sales volume of over $3 billion. Dicke joined Crown in 1996 as the vice president for human resources after three years as a personnel officer at Frost National Bank in San Antonio, Texas. He became Crown's executive president in 2000 and president in 2002. Under his leadership, Dicke emphasized product innovation, vertical integration and continuous improvement, which have resulted in company revenue increases of more than 33% and expanded global reach.
Dicke received a bachelor of science in management and finance from Trinity University in San Antonio, Texas.
Smith was elected in November 2021 to a four-year term as Lima, Ohio's mayor. She is the first woman and the first African American woman to serve as mayor in the 190-year history of the position. After earning her law degree, Smith became a public defender and spent six years in Tennessee as a magistrate before coming to the realization that she could better serve individuals and a community from a different public service standpoint.
"…I began to think about making a shift in my life to be more involved in community and to try to help change the trajectory of people's lives before they find themselves in front of a judge," she told Ohio Northern for an upcoming feature story. She returned home to Lima where she became chief of staff to her mayoral predecessor before winning the mayoral election. Smith also holds an undergraduate degree in journalism and an MBA.
Randall Myers is a licensed pharmacist in Ohio and former owner of Harry's Pharmacy in Carey, Ohio. He is a member of the Ohio Pharmacists Association, National Community Pharmacists Association and American Pharmacists Association. He resides in Albuquerque, New Mexico.
Early in his career, Myers pioneered patient care by designing a system that enabled pharmacists to focus on drug therapy and counseling patients. In 1994, he received the DuPont Pharma Innovative Pharmacy Practice Award, which provided him with a national platform to share his patient-care model with a broader audience. He became a valued guest lecturer at pharmacy schools across the country on the topic of bringing the pharmacists closer to the patient. Through the years, Myers also served as a preceptor, employer and mentor to countless ONU students. The National Community Pharmacists Association named him the 2012 National Preceptor of the Year and the Ohio Pharmacists Association awarded him with the 2014 Beal Award for Outstanding Contributions to the Practice of Pharmacy.
All three speakers will receive honorary doctoral degrees at the commencement ceremonies. For his entrepreneurial acumen, professional success and philanthropic contributions, Dicke will receive an honorary doctor of business administration degree. Myers will receive an honorary doctor of pharmacy degree for his deep commitment and generous services to his community, Ohio Northern University and the pharmacy profession. Smith will receive an honorary doctor of law for her extraordinary dedication to public service and lifelong commitment to improving the lives of others.
Also, Charles DeMonaco, one of the nation's preeminent environmental and trial attorneys, will be receiving an honorary doctor of law for his career accomplishments, tenacity and uncompromising integrity. DeMonaco, who received a JD from ONU in 1974, served in the government sector for several years, including as Assistant Chief of the Environmental Crimes Section of the U.S. Department of Justice in Washington D.C. While serving in that position, he served as lead counsel for the United States in the case against Exxon for its 1989 Exxon Valdez oil spill in Alaska, one of the most significant environmental disasters. The criminal and civil settlements obtained by the government at that time represented the largest comprehensive settlement in the history of law enforcement.
DeMonaco also served as lead counsel for the U.S. Attorney's Office in Pittsburgh in the 1988 Ashland Oil spill, which resulted in the company being fined $2.25 million after a tank collapse sent 700,000 gallons of diesel fuel into the Monongahela and Ohio Rivers. He later transitioned into private practice and is currently a partner in the law firm Fox Rothschild, LLP, based in Pittsburgh, where he focuses on corporate internal investigations, securities investigations and litigation, commercial litigation, corporate compliance and governance, environmental law and white collar criminal defense. He is also an adjunct faculty member at the University of Pittsburgh School of Law.
President Dan DiBiasio, who will retire on June 30, will receive an honorary doctor of humane letters. He was hired in August 2011 as Ohio Northern's 11th president. By the time he retires, he will have served 27 years as a college president in Ohio, completing a 45-year career in higher education. He is the longest-serving president among independent college and university presidents in Ohio (total tenure).
Noteworthy accomplishments during DiBiasio's tenure thus far include attracting and retaining first-rate faculty; emphasizing high-impact learning practices; increasing opportunities for community service and engagement; expanding athletics; strengthening the institution's financial foundation; building and renovating existing facilities for 21st century learning; and successfully attracting philanthropic support for capital projects and scholarships. He has also expanded ONU's sustainable energy practices and recently launched a comprehensive effort to increase diversity, equity and inclusion on campus.
Chris Burns-DiBiasio, who will receive an honorary doctor of humane letters, has also left an indelible mark on ONU and the surrounding community thanks to her community service endeavors. In particular, her efforts have been integral to the establishment and success of the Ada Community Engagement (ACE) Day, Get Connected ONU, Affinity Gardens, Patriotic Pops and the Made in Ada Wilson Football Festival. Additionally, Burns-DiBiasio served on or was involved with several community-based organizations, such as the Ada Rotary Club, Ada Chamber of Commerce, the Activate Allen County Leadership Team and the Lima Symphony Orchestra Board of Directors. She was also a community fellow with the Hardin Community School and served on the Hardin County Chamber & Business Alliance Board of Directors.