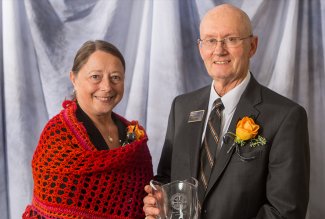 From their student days more than 50 years ago until today, Frederick "Fritz" Kucklick, BSME '69 and Chris (Murdock) Kucklick, BA '70, have helped successive generations of students obtain the same life-changing education at Ohio Northern University that they received.
Now, the couple is furthering their legacy of generosity with the establishment of two endowed scholarships as part of ONU's Forward Together campaign. They refer to them as their Sweetheart Scholarships, in honor of their being ONU sweethearts.
The Frederick "Fritz" Kucklick and Christine Murdock Kucklick Endowed Scholarship in Engineering and the Christine Murdock Kucklick and Frederick "Fritz" Kucklick Scholarship for Arts & Sciences will provide financial assistance for students pursuing higher learning for decades to come.
"It would be impossible to overemphasize the importance of scholarships to ONU's mission," says Shannon Spencer, vice president of advancement. "Every year, almost 100 percent of our students receive financial support, and we award approximately $57 million in scholarships and grants. ONU is only able to make this type of investment in the future of young adults because we are blessed with forward-thinking and generous alumni like the Kucklicks. They embody the best of ONU."
Fritz was the first member of his family to obtain a college education. Growing up in Olmsted Falls, Ohio, he was a "well-rounded nerd" who restored exotic cars, built and operated ham radio equipment, played piano and trumpet, and studied French, he says.
While majoring in mechanical engineering at ONU, he not only developed his technical knowledge, but also his soft skills. He once said: "Every engineer can do the numbers, but not everyone can communicate effectively. I walked away from ONU with excellent language skills that became the greatest asset in my career."
He also built lasting relationships at ONU, including with Chris, who was studying psychology and sociology. The two married after graduation.
Fritz then pursued his long-held dream—inspired by his father and grandfather—to become an entrepreneur and retire at age 50. When he was 30, he and a partner purchased a small tool-and-die shop near South Bend, Ind., that had just seven employees. Over the course of 21 years, they grew the business into Hess Industries, Inc., with 500 employees and $75 million in annual sales.
At age 51, Fritz sold his interests in Hess Industries and indeed retired. Not quite ready for a life of leisure, however, he embarked on a consulting career that included working with some of the nation's top law firms on legal cases in the manufacturing industry.
Throughout their busy lives and careers, the Kucklicks have never forgotten their alma mater. They've willingly shared their time, talent and treasure to ensure ONU's growth and success.
Fritz served as a member of the ONU Board of Trustees from 2009-2023 and on the College of Engineering Advisory Board from 2003-2022. Chris personally welcomed prospective students through her volunteer work with the Alumni B.E.A.R.S. program. The couple also provided a lead gift for the construction of ONU's state-of-the-art James Lehr Kennedy Engineering Building.
Their support of the Forward Together Campaign, through their two endowed scholarships, is only the latest example of their unwavering commitment to ONU's future. The Forward Together Campaign seeks to raise $100 million, of which $50 million is slated for scholarships.
For the Kucklicks, giving back to ONU and the next generation of students is an honor and joy. 
"ONU gave me a solid foundation and steered me in the right direction. My ONU education has been a huge factor in my success my entire life," said Fritz.
"Fritz and I have always believed in the power of education—and specifically an ONU education," said Chris. "It brings us great satisfaction to help ONU continue to shape and mold lives for the better. And, we feel honored to be able to give students a hand up as they pursue their dreams of a college education, just like we did so many years ago."