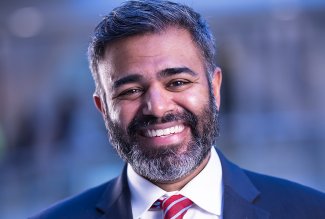 Kavish J. Choudhary, PharmD '04, is grateful for the many individuals—from faculty mentors to scholarship donors—who supported his educational journey at Ohio Northern University's Raabe College of Pharmacy. He credits them for paving his path to his impactful career as the chief pharmacy officer at University of Utah Health and the associate dean of pharmacy practice at the University of Utah College of Pharmacy. 
Kavish met his wife, Amanda Choudhary, MHA, FACHE, after he graduated from ONU. He spoke so fondly of his time at ONU to Amanda that she encouraged that they give back to ONU because it "just feels right." The couple's contributions will go towards ONU's Forward Together campaign that seeks to raise $100 million to support student scholarships, teaching and learning excellence, facilities, and the Northern Fund.
"I remember the name of the family that sponsored the scholarship I received as a student," said Kavish. "It's important to me to pay it forward. ONU is a phenomenal school and I want to be part of anything that can be done to reduce the financial burden so a student can go there and have some of the same opportunities that were presented to me."
A first-generation child of Indian immigrant parents, Kavish was strongly encouraged by his family to pursue a career in "healthcare, healthcare, or healthcare," he said, with a laugh.
As he explored the field of pharmacy, he was excited to see the many different career avenues that pharmacists could pursue. He toured several universities, but during his visit to ONU, he "felt something special" and knew it was the place for him.
His academic journey wasn't without struggles, however, especially during his critical P5 year. ONU pharmacy professors Tom Kier, Karen Kier, Patricia Parteleno and Andy Roecker, offered him vital mentoring and encouragement.
"Their actions showed that they cared for me as a person," said Kavish. "They took the time to check in, show compassion, and encourage me to continue. They taught me about resiliency, and that relationships matter, as well as that you'll learn more from your failures than your successes. I'm forever grateful to them."
ONU's small size, he added, fostered relationship-building. "The lessons I learned at ONU on how to work with people, how to interact in a meaningful and impactful manner, have become the foundation for my career."
As CPO at University of Utah Health, Kavish oversees a team of pharmacists who "push the boundaries of pharmacy practice every day" to provide exemplary care to complex patients who require a high level of care.
Kavish works in a variety of settings, including acute care, community care, clinic-based practice, oncology, informatics and technology, payor relations, legislative affairs, teaching, precepting and clinical research, to name a few.
"Every day brings on new challenges to collaborate and do better," he says. "I enjoy the people, the variety, and the challenges."
Shannon Spencer, vice president of advancement at ONU, says alumni like Dr. Choudhary represent the best of ONU. "Kavish is making a difference in patients' lives every day, and now he and his wife are making a difference in the lives of future pharmacy students with their generous scholarship gift. We are truly grateful to Kavish and Amanda for their commitment to serving others in so many meaningful ways."