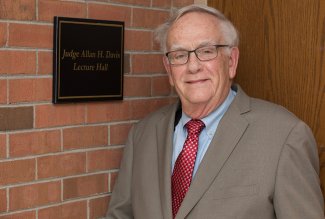 Can one room exact a profound impact on its occupants? A particular 1968 Ohio Northern University College of Law graduate clearly understood the importance of space and place when he generously helped fund the renovation of Tilton Hall of Law's Room 125, a project that incorporated technological updates and provided a venue for invaluable discussion, debate, presentations and all manner of guest speakers since its completion.
Judge Allan H. Davis, who passed away in 2018, was also a substantial supporter of the Forward Together Campaign. He led by example, not only through his generosity, but via his vocation. The retired Hancock County probate and juvenile court judge spent a record 40 years on the bench of the Hancock County Court of Common Pleas. For four decades, he impacted the lives of thousands of citizens of Northwest Ohio. 
His jurisdiction afforded him the awesome responsibility of presiding over families. He formed them through marriages and adoptions. He worked to save them by applying the legal protections afforded to children. And he perpetuated them through administration of estates and the probate of wills. 
ONU administrators have marveled at his remarkable commitment to civility, his fairness on the bench, and his devotion to the welfare of the families, especially the children, whom he served over the years.
Prior to the Davis-enabled renovation, the three identical lecture rooms in Tilton Hall had ably provided a setting to educate students, unchanged, for 44 years. Davis Lecture Hall reflects the changing pedagogy of legal education with an updated, modern space. The changes are in keeping with the evolving nature of law and how it's taught. Consider that in 300 years, law students went from reading treatises and commentaries in back rooms of law offices alone, to studying case law in universities with dozens, or even hundreds, of fellow students. 
The Davis Lecture Hall is a "smart" classroom, with twin 80-inch high-definition displays with full internet connectivity, video conferencing and lecture-capture ability. It is equipped with document cameras so students can collaborate and draft and edit legal documents. Other noteworthy updates include a raised ceiling and construction that makes it accessible to all.
"I think you should reward people who help you in your life, and Ohio Northern has done so much for me," Davis said at the time he made this gift. "It gave me a profession that I've practiced for nearly 50 years, and that would not have been possible had it not been for this wonderful university. This is just a partial payment back."
While a student at Ohio Northern, Davis was a member of Delta Theta Phi and sat on the Student Bar Association Executive Board. Since graduating from Ohio Northern in 1968, Davis has actively supported the University. He was inducted as a Lifetime Member of the Lehr Society in 2015. 
"Judge Allan Davis is the kind of person who always remembers his roots and is committed to giving back to benefit the next generation," said Vice President for University Advancement Shannon Spencer. "This gift will inspire and help many students."