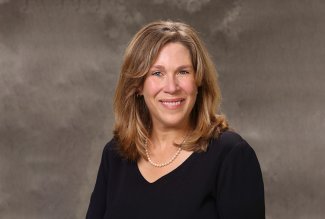 Dr. Melissa J. Baumann is Ohio Northern University's 12th president. Since becoming president in July 2022, shortly after the conclusion of the University's sesquicentennial celebration that focused on furthering its legacy of success, she has committed to supporting ONU's mission and vision by strengthening its strategic plan and branding to enhance the institution's already illustrious programs and to realign other programming with current and future workforce needs.
From 2017 to 2021, President Baumann was provost and chief academic officer at Xavier University, a private Jesuit Catholic university, where she was responsible for overseeing the academic colleges and departments such as student affairs, Title IX, information technology, campus housing, academic planning, and community inter-faith initiatives. Under her direction, Xavier saw great success, such as the expansion of its nursing program in 2019 and strategic budgeting and planning operations enhancement. She also held the rank of professor in Xavier's Department of Physics.
President Baumann has more than 30 years of higher education experience. She began her faculty career at Michigan State University where she taught materials science and engineering and focused on research on biomaterials and tissue engineering. She began her administrative career as the associate dean for the MSU Honors College. Prior to her work at Xavier, she was an assistant provost and head of the Honors College at Auburn University and a professor in the Mechanical Engineering Department from 2013 to 2017.
Throughout her career, President Baumann has received funding from the National Institutes of Health, the National Science Foundation and the Environmental Protection Agency. She has served her profession on numerous editorial boards, as a reviewer for research journals in her field, and has been a frequently invited presenter on her research activities, student achievement and success, and promoting women in the STEM disciplines. She actively works to promote the integration of teaching and research into the undergraduate experience and is the recipient of multiple teaching and mentoring awards.
A Mansfield, Ohio native, President Baumann, who is Ohio Northern University's first female president, was also a first-generation college student and is a first-generation American. She earned a Ph.D. and a Master of Science degree in materials science and engineering at Case Western Reserve University and a Bachelor of Science in metallurgical engineering at Michigan Technological University.
President Baumann's administrative goals have focused on balancing academic innovation, student success, and access with budgetary realities and shifts in the landscape of higher education. Her proactive approaches at Ohio Northern are intended to bolster the University's position as an innovative, service-oriented school where students can gain the tools to realize their dreams and exceed their goals, and families see a strong return on their investment of a college education.