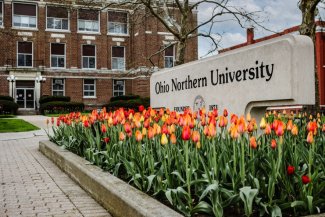 At Ohio Northern University, the Office of University Advancement takes pride in caring for the gifts from generous benefactors. The Independent College Advancement Association (ICAA) recently honored the advancement team by giving it the Program of Excellence Award, which celebrates people or groups who innovate best practices in advancement.
The ICAA strives to enhance its members' professional development and understanding of issues facing private higher education and institutional advancement.
ONU received the award for its outstanding planned giving services, which help donors make an impact on the University and fulfill their philanthropic goals through their estates and other gifts of tomorrow.
"The ICAA award recognizes our excellent work in the stewardship and administration of gifts from our generous donors," said Shannon Spencer, vice president for university advancement. "We strive to model the utmost integrity, and we value our relationships with our alumni and friends. Receiving this award validates our commitment to being knowledgeable about planned gifts and the benefits they offer donors, as well as a leader among our peers in the processes and systems that ensure the proper handling and use of the gifts we receive."
Planned giving options at ONU offer multiple ways to support the University and generations of future Polar Bears, including bequests, beneficiary designations, charitable gift annuities, trusts, real estate and many others.
"These gifts simultaneously bring our donors joy and support students who will go on to impactful careers that benefit society," Spencer said.
Those who choose to support Ohio Northern through planned giving also may be recognized as members of the Heritage Club. When they decide to contribute, an experienced team of development officers is available to assist.
"Longevity within the ONU development team has allowed us to have consistency and continued drive to work for what's best for the donor," said Ellie Beckwith-McManus, director of planned giving at ONU. "Our seasoned team has worked to build strong relationships with those who want to make gifts to the University, and we strive to find the area the donor has the most passion for."
Development directors work directly with each donor to align opportunities with their priorities while providing resources donors may use when working with their financial advisors.
"In our work, we help build trust between the donor and Ohio Northern University," said Beau Slater, assistant director of planned giving at ONU and director of development for the Dicke
College of Business Administration. "This is accomplished by showing the impact of gifts on campus in various areas. We also listen to the reason for the gift and provide resources we think would benefit them to share with their advisors. Planned giving continues to be an important source of student scholarships, program support and funding for faculty excellence."
To find more information on how to set up a planned gift, visit the advancement website or call 419-772-2035.