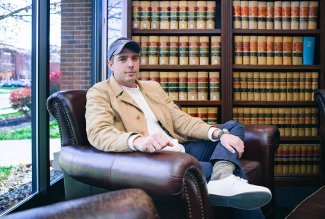 Meet two ONU students who are veterans and learn about their military service and their future goals. 
Andrew "Jake" Lutz, an Ohio Northern University law student from Pine Island, Fla., served in the U.S. Marine Corps for eight years, from 2008-2015.
The Iraq War broke out when Jake was in middle school, and he knew at that young age he wanted to serve his country someday to "do his part."
Jake served in the U.S. Marine Corps' Counter IED team that worked with dogs to sniff out and disable bombs. He and his Labrador Retriever, Windy, had two deployments to Afghanistan, spending 18 months clearing the way for his fellow Marines. For a time, Jake was deployed with the Third Battalion, Fifth Marines that suffered the highest casualty rate of any unit in the war.
Dealing with explosives is already dangerous work, but Jake also faced enemy fire from combatants who "weren't too happy we were finding their bombs," he said. "But you have a job to do. You just wake up and put one foot in front of the other."
Fewer than 200 Marines were dog handlers on the Counter IED team, "so we were in pretty high demand," he added.
After the Marines, Jake obtained his bachelor's degree from American University in Washington, D.C. He served as an aide to a Minnesota congressional representative and worked in Homeland Security before deciding to become an attorney.
Jake's father, Larry Lutz, JD '80, now deceased, attended ONU Law, and Jake is pleased to be following in his footsteps. Last summer, Jake interned for the general counsel for the United States House Committee on Transportation and Infrastructure. After law school, he plans to return to D.C. to continue to work in government.
Miranda Soto, an Ohio Northern University biology student from Spencerville, Ohio, served for eight years in the U. S. Navy. She was stationed on the aircraft carrier USS Ronald Reagan in the Pacific for five years, and spent three years on shore duty in Norfolk, Virginia.
Miranda joined the Navy after high school because she valued teamwork and discipline.
"Honor, courage, and commitment are literally drilled into each sailor's brain," she said. "The biggest lesson I learned is that my work is a direct reflection of myself. You can apply this to everything in life. If you give 100%, you're going to get it back and then some. I am very proud to have served in our Navy, it shaped me into the person I am today."
On the USS Ronald Reagan, Miranda was a damage controlman, dealing with fires, floods, toxic gas, ship stability, and chemical, biological, radiological, and nuclear explosive defense. "If there was any kind of casualty, we were the first ones there," she said.
She also served as a Sexual Assault Prevention and Response (SAPR) advocate, assisting with Navy-wide annual training on sexual assault prevention and helping victims of military sexual assault.
A non-traditional ONU student, Miranda is mom to "two crazy little boys," ages 1 and 6, and she also works as a certified phlebotomy technician. Her lifelong dream is to become a Physician Assistant, even though attending college at this season in her life is not without challenges.
"I am a people person with a heart to serve," she says. "I always remind myself that each and every person is on their own journey. I am still moving toward achieving my goals, and I thank God for that opportunity to pursue my dream. I also use my life experiences to give little pieces of advice to the young women who are just starting their lives."