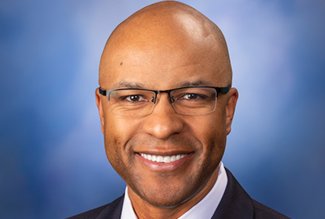 Ohio Northern University will be observing Martin Luther King, Jr. Day and Black History Month with a keynote address by Germaine Hunter, vice president of talent acquisition and diversity, equity and inclusion at Marathon Petroleum Corporation. The presentation, to be held Monday, Feb. 27 at 4 p.m. in the College of Business' Dicke Forum, will be free and open to the public.
 
Hunter's address will focus on "Building Inclusive Communities – Supporting Today, Building for Tomorrow."
 
Along with his keynote address, Hunter plans to interact with various ONU student groups, such as student-athletes, the Society of Women Engineering campus chapter members and College of Law students. Faculty and staff also will have opportunities to interact with Hunter, including a discussion about how to prepare students for a more diverse workplace in the future.
 
According to Marathon Petroleum, Hunter is responsible for the creation and deployment of the company's enterprise-wide diversity action plan. Additionally, he is responsible for leading the company's recruiting and hiring efforts across the United States.
 
Prior to working for Marathon, Hunter spent more than 20 years working in the consumer-packaged goods industry, first at Procter & Gamble, then at The Clorox Company, where he held a variety of strategic planning and new brand development roles. He has broad experience in marketing and sales management.
 
Hunter was the first chief diversity officer at The Clorox Company, where he was instrumental in crafting strategies and plans that significantly increased the representation of women and people of color across the company's global operations.
 
He holds a bachelor's degree in finance from Georgetown University and a master of business administration degree from the University of Chicago's Booth School of Business.
 
A passionate advocate for education issues, Hunter has been an active volunteer with organizations dedicated to the mission of increasing access to learning opportunities for children.
 
He is the past chair of the Park Day School Board of Trustees, where he continues to serve as a member of the school's budget and finance committee.
 
Hunter resides in San Antonio, Texas with his wife, Rebecca, and two children, Joshua and Elizabeth.