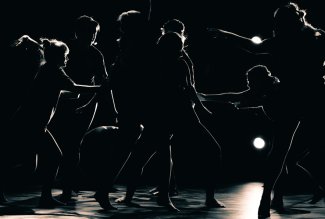 Ohio Northern University's School of Visual and Performing Arts will open the Spring 2023 semester with "IMPULSE: A Spring Dance Concert" with two performances on Saturday, Feb. 11 at 7:30 p.m. and Sunday, Feb. 12 at 2 p.m. at the Freed Center for the Performing Arts. The performances are sponsored in part by the Committee on Cultural and Special Events.
Tickets can be purchased online at www.FreedCenter.com, by phone at 419-772-1900 or in person at the Freed Center Box Office, Monday through Friday, 12 p.m. to 5 p.m. Adult tickets are $20 with discounted tickets for ONU faculty and staff ($15), senior citizens and ONU alumni ($10), and $5 tickets for ONU students and children. Additional discounts ranging from 10-20% are available through the Freed Center's subscription packages.
IMPULSE represents works based on the reaction to internal and external stimuli. Faculty, guest artists and student choreographers have curated this dance concert based on emotions, ideas, experiences and motivations using the moving body through the lens of various classical and contemporary dance genres.
As the ONU director of dance and one of the ten choreographers showcased in this concert, Elizabeth Cozad-Howard explains, "It has been an honor to join this group of talented artists and students to bring you multiple perspectives of dance. Informing, inspiring, educating and entertaining, IMPULSE connects body and community through the Biggs Theatre stage."
Other choreographers include guest artists Vivian Kim, Erin Long-Robbins, Ashley Reed and ONU alumna Amanda Fannon Wischmeyer; along with ONU dance minors Carmen Bednarski (Brecksville, Ohio), Jacqueline Fisher (Upper Arlington, Ohio), Camryn Lamontagne (Austin, Texas), Carina Milano (Chicago, Ill.) and Jaelyn Prater (Toledo, Ohio).
The ONU Dance Company is comprised of University students from a variety of majors. Seniors include Carmen Bednarski, Maggie Biltz (Springboro, Ohio), Jacqueline Fisher, Camryn Lamontagne, Emma McNeil (Cincinnati, Ohio) and Carina Milano. Juniors are Kennedy Aikey (Newark, Ohio), Grant Bell (Brunswick, Ohio), Olivia Gierke (Toledo, Ohio), Mary Guth (Mansfield, Ohio), Abby Lerma (Austin, Texas), Isabelle Rowe (Cincinnati, Ohio). Sophomores include Isabelle Fisher (Columbus, Ohio), Madeline Fisher (Columbus, Ohio), Katie Hershberger (Millersburg, Ohio), Andi Brooke Keller (Columbia Station, Ohio), Courtney Kempf (Bristol, Ind.), Julie McConnell (Charlotte, N.C.), Audrey Mentzer (Mansfield, Ohio), Armani Ponder-Keith (Akron, Ohio), Lily Schnipke (Ottawa, Ohio) and Pyper Sharkins (West Milton, Ohio). Freshmen are Grace Bissonette (Laguna Hills, Calif.), Caylee Born (Delaware, Ohio), Fiona Burau (Mooresville, N.C.), Maris Downing (Kingston, Ohio), Gavin Hull (Ontario, Ohio), Sarah Markley (Vincent, Ohio), Adalyna Mislevy (Macomb, Mich.), Sydneyt Mistretta (Prarieville, La.), Avery Petrie (Marion, Ohio), Meghan Steffy (Orlando, Fla.), Sophia Turk (Perrysburg, Ohio) and Nina Zibbel (Bloomdale, Ohio).
The production team consists of ONU staff members Brian Sage as producer; costume shop manager Ameera Ansari; Kathleen E. DeVault, lighting designer and production manager; Brian Phillips, technical director; Elynmarie Kazle, stage manager mentor. ONU students on the production staff include CJ Miller (Findlay, Ohio) as stage manager, along with Holland Beiser (Cleveland, Ohio) and Katja Roberts (St. Petersburg, Fla.) as assistant stage managers.
For more information about IMPULSE or other events in the Freed Center's 2022-2023 season, visit www.FreedCenter.com or call the Box Office at 419-772-1900 to receive a season brochure.