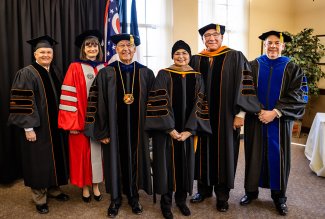 In the midst of a year-long sesquicentennial celebration recognizing Ohio Northern University's 150th anniversary, one of the most prominent students from the University's centennial celebration received another honor. Joanne Lipski, BSBA '72, ONU former trustee and "Centennial Queen" from 1971, received an honorary doctorate from her alma mater at a ceremony in the McIntosh Center Wishing Well on Sunday, Jan. 16, 2022.
After graduating with a degree in accounting, Lipski began her career as an auditor with the global accounting giant KPMG before becoming the supervisor of financial reporting for DeVilbiss Corporation. In 1978, she put her education, talent and business acumen to work for herself as a self-employed certified public accountant. Around the same time she joined the ONU Board of Trustees, upon which she sat for an unrivaled 44 years. In fact, the University believes Lipski to be the longest-serving female trustee in the country.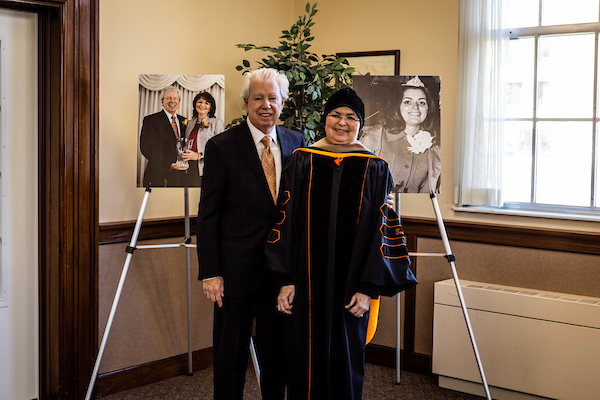 In addition to her service to the Board, Lipski and her husband Les have supported Northern students and priorities for many years as Life Members of the Henry Solomon Lehr Society and through a memorial scholarship fund in the College of Pharmacy in honor of her sister Lana. Lipski was awarded the Dicke College of Business Administration Distinguished Service Award in 2011 and its Pinnacle Award in 2014.
Lipski's honorary degree was bestowed by ONU President Dan DiBiasio. Vice President of Academic Affairs and Provost Julie Hurtig, BSEE '91, John Navin, the dean of the Dicke College of Business Administration, and Daniel B. Walker, BSCE '71, Hon. D. '19, chair of the ONU Board of Trustees, performed the symbolic hooding ceremony. Attending the ceremony was Lipski's family and friends, including Les; children Matthew, Victoria and Theresa; her six grandchildren; and lifelong friend and college roommate Eileen Walker, BA '72. ONU Trustee Rev. David Harris, BA '74, performed the invocation.