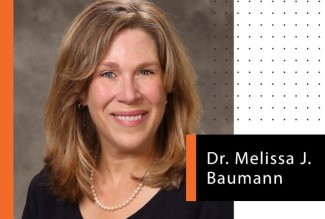 ADA, Ohio – Dr. Melissa J. Baumann, a dynamic and talented leader who has been serving as provost and chief academic officer at Xavier University, has been selected as the 12th president of Ohio Northern University. She will be the first woman to hold the position. Her appointment was unanimously approved at a recent Board of Trustees meeting. She will begin on July 1, 2022, succeeding President Daniel A. DiBiasio when he retires at the end of June 2022.
Dr. Baumann's qualifications distinguished her from a highly qualified pool of candidates who expressed interest in this role. The search committee was impressed by her academic background, leadership accomplishments, and compassionate commitment to student, faculty, and staff excellence at private and public colleges during her more than 30-year career.
"We're thrilled that Dr. Baumann will be joining us at ONU," says Pam Hershberger, BSBA '87, presidential search committee chair and Board of Trustees vice chair. "Her exemplary service within academia, along with her deep understanding of and empathic approaches to students as they navigate their college years, fits right in with Ohio Northern's mission and vision. We're certain our University will flourish under her leadership."
Dr. Baumann is a Mansfield, Ohio native, a first-generation college student and a first-generation American. She earned a Ph.D. and a master of science degree in materials science and engineering at Case Western Reserve University and a bachelor of science in metallurgical engineering at Michigan Technological University.
In 2017, she assumed the role of provost and chief academic officer of Xavier University, a private Jesuit university, where she has been responsible for overseeing the academic colleges and departments such as student affairs, Title IX, information technology, campus housing, academic planning, and community inter-faith initiatives. Under her direction, Xavier has seen great success. Examples include expanding its nursing program to the College of Nursing in 2019, attracting a more diverse faculty and student body, and enhancing its strategic budgeting and planning operations. She also holds the rank of professor in Xavier's Department of Physics.
Prior to Dr. Baumann's arrival at Xavier, she was an assistant provost and head of the Honors College at Auburn University and a professor in the Mechanical Engineering Department from 2013-17. She began her faculty career at Michigan State University where she taught materials science and engineering and focused on research on biomaterials and tissue engineering. She began her administrative career as the associate dean for the MSU Honors College.
Over her career, Dr. Baumann has received funding from the National Institutes of Health (NIH), the National Science Foundation (NSF), the National Aeronautical Space Agency (NASA), and the Environmental Protection Agency (EPA). She has served her profession on numerous editorial boards, as a reviewer for research journals in her field, and has been a frequently invited presenter on her research activities, student achievement and success, and promoting women in the STEM disciplines. She sat on the national review committee for the Goldwater Scholarship and actively works to promote the integration of teaching and research into the undergraduate experience. Her administrative focus has remained on balancing academic innovation, student success, and access with budgetary realities and shifts in the landscape of higher education.
"My career has been characterized by a commitment to partnering with faculty and staff to provide a challenging yet supportive environment where all students are able to develop the tools, qualities, and habits of mind that propel them to leadership in service to society," says Dr. Baumann.
She adds that she is eager "to steward the institution as it prepares for a bold new strategic plan that will best serve students in the challenging years to come."
"ONU's commitment to an affordable, accessible education not only supports students as they prepare to engage the world, but also distinguishes ONU as an institution of purpose, positioning the university well to confront the lingering challenges of the pandemic and the rapidly approaching demographic cliff among traditional aged college students," she says. "My promise is to lead from a place of authentic commitment and connection, characterized by genuine engagement with board members, faculty, staff, students, alumni, and friends, and to continue the legacy of President Daniel A. DiBiasio in advancing ONU's 150-year record of academic excellence and achievement. I take seriously the opportunity to steward the institution consistent with its Methodist roots and core values."
During spring semester, President DiBiasio has invited her to spend time on campus to begin to learn about ONU - its people, programs and possibilities for the future under her leadership. When she moves to Ada in July, Dr. Baumann is looking forward to being nearer to her two daughters and walking her dog, a rescue boxer named Schatze, on ONU's beautiful campus. ONU is grateful for the outstanding service of the search committee, which included three faculty, one coach, two students, and seven trustees.
As we support and celebrate President DiBiasio during his final semester, the campus community looks forward to welcoming Dr. Melissa Baumann as she begins her ONU journey.